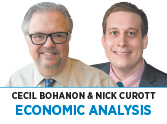 Over the last 10 weeks, the faculty of the Miller College of Business here at Ball State University has enjoyed interacting with seven young business professors from Lebanon and Iraq under the aegis of the U.S. State Department's Fulbright program. And it hasn't just been we faculty members who have benefited. The Fulbright scholars provided a program for the student-led Economics Club. Thirty or so students and faculty attended the meeting, and a lively and informative discussion continued for two hours. And this was without pizza as an inducement.
The civil war in Syria and the rise and fall of ISIS have been two well-documented tragedies of this decade. These horrors unfolded in the back yards of our guests. Professor Aram Kokoy, from the University of Science and Technology in the Sulaymaniyah-Kurdish Region of Iraq (KRI), shared some of his research on the economic impact of the crises on the KRI.
It should be noted that the KRI is a semi-autonomous part of Iraq, and since 2003 has suffered from little of the violence that has plagued the rest of the country. Nevertheless, the KRI has been affected by the adjacent turmoil. More than 250,000 Syrian Kurds have crossed over its borders and over 1 million mostly Arab-speaking internally displaced persons migrated to the KRI as ISIS extended its tentacles in Iraq.
One suspects that the region's social services were overwhelmed. We also had a hunch that tension arose between the new migrants and the local population as the newcomers competed with the locals in the labor market. "Well, yes, Dr. Cecil, there were those issues" the amiable 30-year professor with a neatly trimmed beard replied, "but there is more to the story."
Those arriving, especially among the Kurdish-speaking Syrians, were disproportionately skilled workers. They were doctors, lawyers, pharmacists, engineers and entrepreneurs who filled a skills gap that had existed in the KRI for some time. It is often said that immigrants to the United States take jobs that natives no longer want. In this case, the new immigrants took jobs for which the natives were not qualified. That the KRI is subject to rather light business regulation, low taxes and few wage or price controls allowed the region to absorb the refugees quickly. The migration was a boon to the region's economy. An interesting case: Even the most horrendous human tragedies can have a silver lining—that is, if government policies don't get in the way.•
__________
Bohanon and Curott are professors of economics at Ball State University. Send comments to [email protected]
Please enable JavaScript to view this content.