Mark Miller was attending the Rental Staging Network's spring conference the first week of March when he and other industry executives started hearing that events around the country were being canceled due to the COVID-19 outbreak.
By the time the CEO of Markey's Rental & Staging got back to work on March 9, the deluge was in full force: Everything Markey's had on its schedule for the remainder of March and nearly all of April was off.
Indianapolis-based Markey's and other companies that specialize in making conferences, fundraisers and other events memorable and financially successful were going to have to reinvent themselves—and quickly.
So the following week, Miller presided over a virtual town hall with his employees—in addition to Indianapolis, the company has offices in the Midwest, Texas and Florida—to share the news: The company needed to downsize, minimize expenses and focus on selling and presenting virtual and hybrid events.
"It was like a startup business where the challenge was, we had to be producing work while we were learning the work while we were selling the work," said Miller, a 38-year events industry veteran.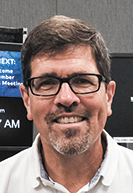 The company wound up developing what it calls MVP—Markey's Virtual Platform.
"There's a multitude of ways for us to help the customer deliver their message virtually," Miller said. "There will be hybrid events in the future. So we want to be a leader in it now."
Markey's also had an ace in the hole. In December, it finished a 40,000-square-foot addition to its facilities near Keystone Avenue and Interstate 70 that included a 4,000-square-foot training and education center to teach employees staging and production techniques and coach customers in skills like working with a teleprompter and a downstage monitor, using a stage and getting comfortable behind a podium.
"Having that space allowed us to create a virtual performance/production area," he said.
While that was going on at Markey's, the Cancer Support Community was trying to figure out how to pull off its annual "Laughing Matters" fundraiser, scheduled for April 21 at the Old National Centre. The event was supposed to feature a dinner, live auction and performance by comedian Martin Short.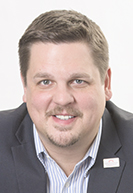 By the third week of March, CEO Eric Richards knew the dinner would have to be canceled. But the organization, which depends on the proceeds from the fundraiser, needed to figure out how to present the auction and comedy show.
Richards contacted Markey's. And on the night of April 21, Markey's new facility was transformed into a ballroom with a stage, logos and much of what people would have seen had the event been held in the Egyptian Room as scheduled.
With about five people in the room, and Indianapolis-based comedian Dave Dugan filling in (since Martin Short couldn't travel), Markey's produced a mini-version of Laughing Matters for an audience watching on the Cancer Support Community's Facebook page, WTHR-TV Channel 13's Facebook page and website, and WTTS-FM 92.3's Facebook page.
"It was a big success for us," Richards said. "Not as much as being in person, but it met our expectations going into it."
The result was thousands of viewers who would not have attended the event otherwise and 80 new donors. "That's a big number for an organization our size," he said. The event grossed $275,000. That's less than usual, Richards said, but the net was higher because expenses were lower.
While Laughing Matters was a success, and virtual events are keeping Markey's and others in the events industry moving forward, Miller said business is still hard. Even with the help of a forgivable Paycheck Protection Program loan, Markey's had to permanently lay off about 75 of its 260 employees and furlough 40 others.
April, May and June were "a disaster," with revenue at about 7% of normal, Miller said. He anticipates revenue running 40% of normal for the rest of 2020.
"We don't see our business returning to normal, to where we were revenue-wise, probably until the middle of 2022," Miller said.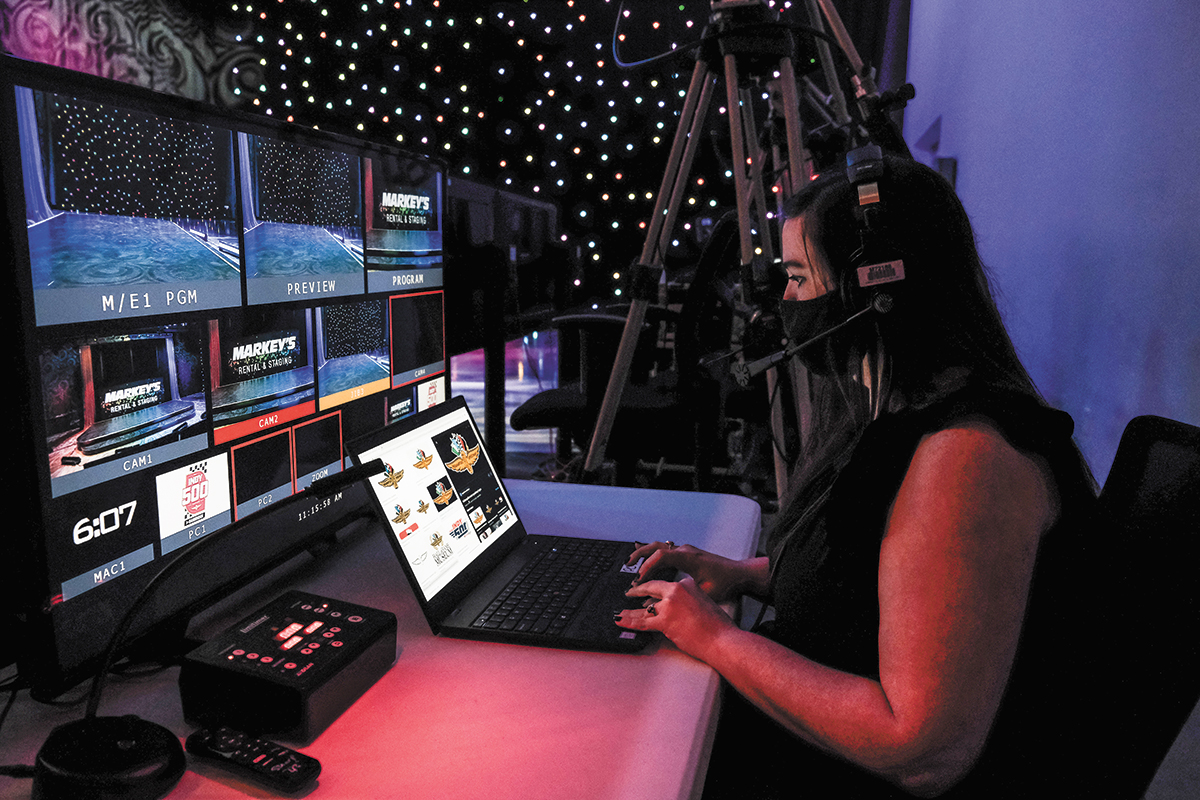 Adopting Plan B
George Sechrist remembers that first week of March vividly, too. That's when the president of Indianapolis-based Business Media Group, a full-service events management company, got a call from Home Depot canceling its conference for service providers, an event scheduled to bring 500-600 people together at the Palms Hotel in Las Vegas in late April.
Over the next several months, BMG, which had been hired to manage that conference, saw about $3.2 million in business either get postponed or canceled.
"I was really down in the dumps," Sechrist said, "because I was like, 'Where are we going with this?'"
Online turned out to be the answer.
"Clients still need to communicate to their customers, and they still need to communicate to their sales team," he said. "And while everyone would rather meet in person, we've completely shifted over to virtual. That is really starting to hit now, and I'm very pleased with the decision we made."
Sechrist said BMG ramped up production of virtual meetings for clients such as Atlanta-based Rheem Manufacturing Co., Texas-based Historically Black Colleges and Universities, the Washington, D.C.-based International Association of Fire Fighters and Michigan State University.
The company also worked to turn virtual events from glorified Zoom-style meetings to interactive sessions where audience members can watch live speeches, ask questions in real time and chat with other participants. In addition, BMG sets up virtual conference centers for check-in and registration and has developed a "matchmaking" feature to bring together attendees so they can have a discussion over a virtual coffee or beer.
And if conference organizers worry that attendees might tune out, BMG has them covered by injecting a "game board" into the middle of sessions to allow audience members to win money. The catch: You must be watching to win.
"Let's face it, chaotic videoconference calls and boring webinars suck," BMG says on virtual.businessmediagroup.com, where newly made videos instruct meeting planners on how to best present a virtual event. "But virtual meetings can truly ENGAGE your audience with memorable experiences."
The move to virtual events, plus participation in the federal Paycheck Protection Program, enabled BMG to continue without laying off or furloughing any of its eight employees, Sechrist said.
"It's not going to replace $3 million worth of business," he said, "but it's going to keep our staff employed for the time being until it opens up."
'Tough decision'
At Indianapolis-based Evans Audio-Visual, which does event production and design, equipment rental and staging, the pandemic nearly shut down the business. Production Manager Tim Meggenhofen said every event the company had scheduled in March was either canceled or postponed.
"It put us dead in the water," he said. "When that occurred, we put a total halt on our business and made the tough decision that we had to lay off employees. That way, people could have the opportunity to use other resources or find other work."
What kept Evans AV afloat, in addition to a PPP forgivable loan, was a change in what it concentrated its business on: producing live events and a return to earlier days when equipment installation was a big part of its business. It's seeing more clients that now want streaming videoconference systems.
Non-disclosure agreements prevent Meggenhofen from divulging client names, but he said Evans has successfully communicated to customers that virtual events are a worthy option at this moment.
"We have gobs and gobs of ability to create exciting events," he said. "Now with smart TVs in people's homes, there are so many different opportunities to get their message across in an exciting way. It doesn't have to be everything coming to a grinding halt and people wait until we can have live events again."
Meggenhofen estimated that Evans' revenue is down 80%-85% this year, but he said the company has been able to bring back 16 of its 30 employees.
"It's really been devastating," he said. "If we hadn't made that switch, I don't know where we would be right now."
Lower costs
Virtual events clearly have their advantages—they can be presented for a fraction of what a live production would cost by cutting out hotels, catering and more—but they also result in significantly less revenue for companies like BMG, Markey's and Evans AV.
BMG's Sechrist said that, if Home Depot's 2021 conference is held virtually, his company stands to gross about 25% of what it would earn from a live event.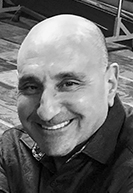 "Virtual is putting a Band-Aid on where you need a bunch of stitches," said Steve Gerardi, who has been presenting corporate events and concerts for more than 35 years.
"When it goes virtual, it doesn't have the same feel to it. It's not like when you're sitting in the Marriott ballroom when they're doing a live auction and you've got two or three people trying to outbid each other. They seem to be something to get us through—just like virtual concerts are a way for people to get entertainment until we can get it again."
Also missing from virtual events is the all-important face-to-face time.
"Virtual meetings are great—don't get me wrong," Sechrist said. "But I'm a firm believer in in-person meetings. You need to have that relationship, that one-on-one, that handshake, that meeting to really motivate. Especially for salespeople. They need that camaraderie. They need that pat on the back and that kick in the butt. And that's what happens when you get groups together."
But until those in-person meetings can resume, virtual events will have to suffice. And even after, virtual meetings are almost certain to continue to be part of the picture.
"Government may allow us to meet again," Markey's Miller said. "But when will society, culture, when will people's mindset, allow us to meet again?"•
Please enable JavaScript to view this content.