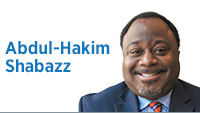 Although very few things surprise me in this world, I have to admit I was a bit taken aback by some of the reactions on social media lately that I had been shot—booster-shot—that is.
I received my booster shot at Meijer a couple of Fridays ago, and, as I was getting my shot, I decided to take a selfie and post it on social media. I did the same thing back in March when I got my original shot.
I got the shot for several reasons.
First and foremost, with COVID-19, and the subsequent variants running crazy, I wanted to make sure that, if I did contract the coronavirus, I likely would not end up in an intensive care unit. As I write this column, according to the Indiana State Health Department, nearly 4,000 new coronavirus cases were reported today. More than 1.6 million Hoosiers have tested positive since March 2020 and more than 20,000 have died.
Also, according to the latest statistics, the seven-day positivity rate for unique individuals stands at 44.8% and falling. The seven-day positivity rate for all tests is 29.6% and falling. A total of 18,293,324 tests have been administered to 5,027,868 Hoosiers since Feb. 26, 2020. There are currently 2,694 Hoosiers hospitalized with COVID-19. And I had no intention of being number 2,695.
Throw in the fact that my teaching jobs required me to have a booster shot, and even more important, that my father passed away in 2020 due to complications stemming from COVID-19, and you can see I didn't need much motivation to get my booster.
What amazed me was the reaction from the anti-COVID-vaccination crowd.
By posting the picture of myself getting my booster shot, I was accused of virtue-signaling, the popular modern habit of indicating that one has virtue merely by expressing disgust or favor for certain political ideas or cultural happenings. So, by posting my photo of me getting a shot, I was allegedly showing how virtuous I was, and I was looking down on those who hadn't been vaccinated.
I was also accused of being "sheeple" because I got the shot. I was filling my body with toxins. Or my personal favorite, in the amount of time it took me to get my booster shot, I could have had a heart attack. I have no idea what that means, but it seemed worth repeating.
When it comes to COVD vaccinations, I subscribe to the adage of "my body, my choice." In other words, you have the right to exercise your choice and get vaccinated or not. Now please note, with those choices also come consequences. And if your employer makes having a shot a requirement, then to me, the options are pretty straightforward: You get the shot or get another job, which should not be too hard to find. And forgive me, but when it comes to "religious exemptions," I don't recall God telling Moses when he issued the Ten Commandments, "Thou shall not be vaccinated against COVID."
So, like I said, you have the choice to get vaccinated/immunized from COVID-19. And if you decide not to, I promise I won't look down on you. Sorry. Yes, I will look down on you (physically) as I am visiting you in the ICU ward, where you are in a bed taking up space from someone else who could have used it because you wouldn't take 20 minutes out of your day to get shot.•
__________
Shabazz is an attorney, radio talk show host and political commentator, college professor and stand-up comedian. Send comments to ibjedit@ibj.com.

Click here for more Forefront columns.
Please enable JavaScript to view this content.