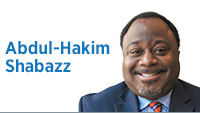 Broken glass. Damaged buildings. Three people shot dead.
That was the result of violent protests on May 29-30 in downtown Indianapolis. No, let me change that.
That wasn't protesting, that was rioting.
A protest is a peaceful demonstration. A riot is what we saw on those Friday and Saturday nights.
For several hours, I watched my colleagues at WISH-TV Channel 8 report on the damage caused by rioters, who set two banks on fire, threw rocks and water bottles at police, and broke a lot of windows.
Is this what George Floyd would have wanted?
Lest you have forgotten, George Floyd was an African American who was killed by a police officer in Minneapolis. The officer had his knee on Floyd's neck. There are conflicting coroners' reports, but the officer has been charged with third-degree murder and manslaughter.
His death led to numerous protests around the country. Many were peaceful. And then there were the riots like we saw here in Indianapolis.
They, the rioters, spray-painted several buildings, including Monument Circle. They caused damage to a lot of buildings.
It's one thing to peacefully protest to show your anger. I get that. What I don't understand is destroying businesses and private property. That isn't protesting. That's rioting.
Martin Luther King Jr. said a riot is the language of the unheard. But he also said riots are socially destructive and self-defeating. So I have to ask, what was the point of Friday and Saturday nights?
What was the point of smashing the windows at Huntington Bank or Downtown Comics?
What was the point of throwing rocks and water bottles at police officers?
What was the point of setting dumpsters on fire in the middle of Pennsylvania Avenue?
How are rioting and damaging property going to do anything to help your cause?
If anyone should be upset, it should be the thousands of people who came out, protested and then left. Most of the work they did to make their voices heard has been or will be forgotten due to the many knuckleheads who don't know how to honor the social contract.
And it wasn't just here in Indianapolis. Minneapolis, Atlanta, Chicago, Los Angeles. I have the same questions about what the rioters accomplished in those cities. What did you accomplish by attacking the CNN building in Atlanta or the courthouse in Nashville? Please tell me because I must have missed something.
In an interview with "Good Morning America," Terrence Floyd, George's brother, described him as "a gentle giant." He said his brother George "was about peace" and was a "motivator" who "always saw the lighter, the brighter side of things."
Terrence Floyd said the violence that has erupted in the wake of his brother's death is "overshadowing" his memory and called for the "destructive unity" to come to an end.
Floyd said his brother "would want us to seek justice" but to channel the anger "another way."
He was right.
Is this what George Floyd would have wanted? Would George Floyd have wanted destruction and violence? Would he have wanted a message of accountability to take a back seat to a message of hatred?
I don't think so.•
__________
Shabazz is an attorney, radio talk show host and political commentator, college professor and stand-up comedian. Send comments to ibjedit@ibj.com.

Click here for more Forefront columns.
Please enable JavaScript to view this content.