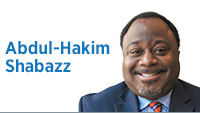 A new poll conducted last month has Democrat Ryan Mears leading Republican Cyndi Carrasco in the Marion County Prosecutor's race, but there are a significant number of undecided voters, and more residents think the city is less safe than a year ago.
The poll, conducted by Indy Politics pollster ARW Strategies, has Mears ahead of Carrasco 46% to 27%; however, 28% of respondents said they were undecided. The poll of 400 likely voters was conducted July 19-21 and had a margin of error of plus or minus 4.9 percentage points.
Mears' total job approval is 35%, while 27% disapprove. Slightly more than 38% of respondents said they were undecided.
A whopping 77% say Indianapolis/Marion County is less safe than it was a year ago (this is up from 63% last summer).
When asked who was most responsible for crime in Indianapolis, 46% blamed "society as a whole" (up significantly from 31% last summer), 16% blamed the criminals (down from 23%), 11% blamed Mayor Joe Hogsett (down from 15%), 8% the local judicial system (same), and just 5% blamed Mears (up 1%).
"Mears certainly seems like he's avoiding a lot of the blame, and so Carrasco looks like she's got her work cut out for her," said ARW pollster Andrew Weissert. "The narrative is certainly there, though, and, among undecideds, Mears is underwater with his job approval (16% approve/20% disapprove)."
Carrasco enjoys support from 70% of Republicans in the poll, while Mears has 77% of Democratic support. Carrasco has 22% of independents' support, Mears is at 34%, and 44% were undecided.
Geographically speaking, Mears leads in the following townships: Center (46%-30%), Franklin (46%-25%), Lawrence (42%-29%), Pike (63%-19%), Warren (44%-24%), Washington (40%-15%), and Wayne (34%-29%). Carrasco is ahead in Perry (46%-38%) and Decatur (34%-29%).
As to safety in Marion County versus a year ago, 71% of men said the county was less safe, while 81% of women said less safe. Seventy-six percent of white respondents and 77% of Black respondents said the county was less safe, as did 84% of Republicans, 74% of Democrats and 73% of independents.
It was an interesting breakdown along party affiliation when it comes to who is mostly responsible for the rise in crime. Fifty-two percent of Democrats blamed society as a whole, 39% of Republicans blamed the mayor and Mears, and 22% of independents blamed the criminals themselves.
So what exactly does this all mean moving forward? A couple of things.
First, only a tiny percentage of Marion County residents blame Mears for the perceived rise in crime. So, to be successful, Carrasco will have to convince more voters over the next few months that Mears is culpable. She will also have to unveil anti-crime proposals that attack the societal reasons for the increase in crime. The Fraternal Order of Police might also want to change its strategy in attacking Mears because, so far, it hasn't seemed to work.
In addition, this race will be won or lost on the vote of independents.
Going back to our original numbers, (46% for Mears, 27% for Carrasco and 28% undecided), there is a political theory that undecided voters tend to break 2-to-1 for the challenger. So applying that math here, Mears wins 55-45. So, that means Carrasco needs 6 percentage points to pull off a victory, which we think is very possible.
We plan to poll again in late September or early October, when we will have a better idea of seeing what the political stars look like.•
__________
Shabazz is an attorney, radio talk show host and political commentator, college professor and stand-up comedian. Send comments to ibjedit@ibj.com.

Click here for more Forefront columns.
Please enable JavaScript to view this content.