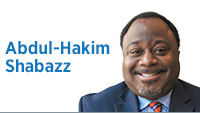 When it comes to crime, if you think the city of Indianapolis is less safe than it was last year, you're not alone. Last month, my media company, Indy Politics, and ARW Strategies LLC polled 400 registered voters. We asked about crime, COVID-19, charter schools and marijuana legalization.
Voters split on the direction of Indianapolis. Forty percent said Indianapolis is headed in the right direction, while an equal 40% said the city has gone off on the wrong track. Democrats and younger voters were most optimistic about the direction of the city, while African American, Republican, independent and older voters were more pessimistic. Sixty-three percent thought the city was less safe this year than last year.
Mayor Joe Hogsett is largely liked by voters in the region. A majority (55%) of voters have a favorable opinion of him, and 57% approve of the job he's doing as mayor. Just 29% have an unfavorable view of him, while 32% disapprove of the job he's doing.
While the mayor is getting high marks, he hasn't solidified re-election just yet. Asked whether voters would re-elect Hogsett or vote for someone else, 37% said they'd vote for Hogsett, while 32% said they'd vote for someone else; 31% said they're undecided.
Just over a year out, the county prosecutor election is a total toss-up. When asked whether they'd vote for Ryan Mears in next year's Marion County prosecutor election, just 23% said they would, while 21% say they'd vote for someone else. A massive 56% were undecided, leaving open a major lane for a viable challenger.
Among Democrats, Mears is underperforming, with just 30% saying they'd vote for him, while 15% would vote for someone else, and a majority—56%—were undecided. Among Republicans, 22% would vote for Mears, 20% would vote for someone else, and 57% were undecided. For independents, just 11% would vote for Mears, with 32% choosing someone else, and 58% undecided.
African American voters are more pessimistic about local schools as well. While 27% of all registered voters believe public schools in Marion County are going in the right direction and 38% say they've gotten off on the wrong track, only 24% of African Americans say they're headed in the right direction and 45% say they're on the wrong track.
There is a slightly more optimistic view of charter schools in Marion County, with 34% believing they're headed in the right direction, and 23% saying they've gotten off on the wrong track.
Despite those views on the direction of local charter schools, a clear majority (59%) say they support school choice overall, with just 28% opposing it. Opposition to school choice is most pronounced with self-identifying Democrats, with 31% opposing. However, a majority (54%) still support school choice.
When it comes to COVID-19 vaccinations, self-reported vaccination rates are encouraging, and among those who haven't yet received one, the recent full authorization from the FDA should help.
Among registered voters, 69% report being fully vaccinated, and an additional 5% say they've received at least one shot so far. It's important to note that, while official vaccination rates for Marion County place the number at 50%, this survey reflected registered voters only, not the overall population.
And when it came to marijuana legalization, 85% supported either full legalization (medicinal and recreational) or just medicinal; just 10% opposed any form of legalization.
The poll of 400 registered voters was taken Aug. 13-23. It was a combination of online and text messages. The margin of error was 4.9%. You can get the complete details at IndyPolitics.org.•
__________
Shabazz is an attorney, radio talk show host and political commentator, college professor and stand-up comedian. Send comments to ibjedit@ibj.com.

Click here for more Forefront columns.
Please enable JavaScript to view this content.