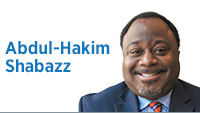 If Indiana Attorney General Todd Rokita is a big believer in the First Amendment, as well as openness and transparency in government, he sure as heck has a funny way of showing it.
Just to get you folks up to speed, a couple of weeks ago, I got a media advisory from the AG telling me he was going to have a news conference regarding a robocall lawsuit, and credentialed media had to RSVP to attend, so I did.
The next day, I went to the news conference. Rokita's press secretary was outside the office door and told me I couldn't come in because I was not credentialed media.
I'll let that sit with you for a second.
Yes, the press secretary told me I couldn't get in because I wasn't credentialed. Even though I had my media badge, which I got from the Indiana Department of Administration. And for the record, I've been covering Indiana government and politics since 2004.
I've covered and written about the Statehouse for WXNT, WIBC, WRTV, WISH, Fox 59, The Indianapolis Star, the Indianapolis Business Journal and NUVO. Not to mention that I've been running my website, Indy Politics, for 10 years.
What's not to be credentialed?
So I sent Rokita's office an email the next day asking why I couldn't get in. All I got was crickets, so I decided to fill out an open-records request and asked the same question. I will let you know how it goes.
I did this for two main reasons. First, I'd like to know a substantive, legitimate reason why Rokita banned me from his event, apart from the fact that he hates my guts, which goes back to the 2018 U.S. Senate Republican primary. But second, and most important, if he can do it to me, he can do it to anyone in the press corps.
And that is unacceptable.
I don't recall former attorneys general Steve Carter, Greg Zoeller or Curtis Hill ever asking me to show my credentials before attending one of their events, or denying me entry.
I don't recall U.S. senators Mike Braun or Todd Young, nor former senators Joe Donnelly, Evan Bayh or the late Richard Lugar ever doing something like this.
Nor Gov. Eric Holcomb, former governors Mitch Daniels or Mike Pence, nor state treasurers Richard Mourdock, Tim Berry or Kelly Mitchell, nor state auditors Tara Klutz or Suzanne Crouch, nor, for that matter, secretaries of state Connie Lawson, Charlie White or—Guess who?—Todd Rokita. And I don't think the House and Senate Republican and Democratic caucuses ever denied me entry, either.
Heck, even current Indianapolis Mayor Joe Hogsett, who has been upset with me on occasion due to my columns on crime in Indianapolis, has never thrown me out or denied me entry into a news conference.
And even as much as Glenda Ritz, the former superintendent of public instruction, couldn't stand me, I doubt if she would ever violate the state and federal constitutions.
You wouldn't think someone who, for all intents and purposes, is running for governor, calls himself a "constitutional conservative" and took an oath as both a licensed attorney and an elected official to uphold and defend the U.S. and Indiana constitutions, would ban the media from a news conference on robocalls.
I hope Rokita will just come clean and admit his hatred for me is stronger than his love for the state and federal constitutions. I don't think that's going to happen without a court order.•
__________
Shabazz is an attorney, radio talk show host and political commentator, college professor and stand-up comedian. Send comments to ibjedit@ibj.com.

Click here for more Forefront columns.
Please enable JavaScript to view this content.