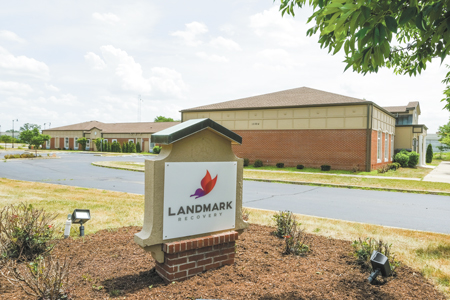 Private addiction-treatment centers are springing up across central Indiana, with out-of-state companies spending millions of dollars in the race to treat people with substance-abuse disorders.
Many of the providers are not traditional health systems, but rather small, for-profit startups attracted by a soaring demand for recovery services. The companies often have only a few years of experience in treating complex addiction disorders.
In many cases, they are opening high-end facilities in wealthy neighborhoods, and refusing low-income Medicaid patients in favor of those with higher-paying private insurance plans.
Landmark Recovery, a 3-year-old, family-run company based in Louisville, recently bought an old medical-office building near 135th and North Meridian streets in Carmel for $1.9 million and is spending another $2 million to renovate it.
The company plans to reopen the building in August as a 48-bed addiction-recovery clinic, offering a range of programs, from detox treatment to group counseling. The center will charge an average of $14,250 a month and accept only patients with private insurance or self-pay.
Landmark Recovery was founded by Cliff Boyle, who made his money in commercial real estate projects and senior living communities, and opened his first two addiction-treatment centers, both in Kentucky, in the past three years. Now, the company is pushing hard to expand, with plans to open six to eight centers a year across the nation.
"We're in the middle of the biggest public health crisis in 100 years," said his son, Matthew Boyle, the company's chief operating officer. "And there's tremendous, tremendous demand for these services that there wasn't even five years ago."
Indiana, which has been ravaged by the opioid crisis, has seen big growth in addiction treatment. Currently, 165 providers are certified to operate outpatient addiction treatment services across the state—up 67% from 2009, according to the Division of Mental Health and Addiction, a unit of the Indiana Family and Social Services Administration.
Another 95 providers are certified to offer inpatient treatment, up 25% over the same period.
But those figures tell only part of the story. Each certified provider can operate multiple locations, and the number of actual locations providing addiction treatment services in Indiana today is 464. State officials could not immediately say how that compares to five or 10 years ago.
Uneven performance
The growth could dramatically shift the nation's $35 billion addiction-treatment industry, which has soared from $21 billion in 2003 and is expected to top $42 billion by 2020, according to the Hazelden Betty Ford Foundation, the nation's largest not-for-profit treatment provider.
For years, addiction services have been highly fragmented, with thousands of small clinics, solo providers, community health centers and church groups offering much of the treatment.
As a result, the quality and types of programs have been uneven. Over the years, some clinics offered medication-based treatments, while others offered only 12-step treatment programs or experimental treatments.
"Some people went to treatment programs at sweat lodges," said Dr. Tim Kelly, an addictions specialist at Community Health Network. "There were all these different approaches, and still are. And they don't always have a rigorous, scientific approach."
Helping fuel the growth is a deluge of funding from private equity firms.
In 2017, there were 26 private equity deals for addiction-treatment providers in the United States, totaling $320 million, according to PitchBook, a financial data firm. That's about double five years earlier, when just 12 deals totaled $189 million.
"The number of treatment programs is on the rise, and competition among treatment providers is significant," according to a white paper issued this year by the National Association of Addiction Treatment Providers, a trade group based in Denver. It added that the quality of care by providers "varies widely."
Some of the fastest-growing players backed by private equity are CleanSlate Centers, based in Nashville, Tennessee, with more than 40 locations, including 18 in Indiana; and Recovery Centers of America, based in suburban Philadelphia, which has eight locations nationally and is working to open its first Indiana location next year, on the northwest side of Indianapolis.
Addressing a crisis
The private companies are responding to booming demand for addiction-recovery services in states hit hard by the opioid crisis and other substance abuse.
Indiana certainly fits into that category. In 2017, doctors in Indiana wrote 74.2 opioid prescriptions for every 100 persons, higher than all but nine other states, according to the National Institute on Drug Abuse.
That has helped lead to a spike in drug addiction and overdoses. Drug overdose deaths in Indiana have climbed annually from a low of 781 in 2007 to a high of 1,526 in 2016, a 95% increase, according to the Indiana University Center for Health Policy.
Indiana officials say they welcome more providers into the state to help deal with a drug problem that is still out of control.
"We need a wide array of providers to meet every individual's treatment needs," said James McClelland, Indiana's executive director for drug prevention, treatment and enforcement. "Gov. Holcomb has placed a high priority on expanding access to quality treatment for more people. We now have more quality treatment available than ever before, and we are continuing to work to increase timely access to care."
He added that certified inpatient and outpatient providers, whether run by not-for-profit health systems or by private-sector entities, are regulated to ensure quality care.
Even so, some players entering Indiana have run into legal and safety problems.
CleanSlate agreed in 2016 to pay $750,000 to settle federal allegations that it improperly prescribed Suboxone, a medicine for pain and addiction, and improperly billed Medicare.
And two years ago, Recovery Centers of America was forced to temporarily halt new admissions at its largest center, in suburban Boston, after two patients died in one year at the facility. State inspectors there found that the facility was understaffed, worker training was lacking, and patients were not properly supervised.
Recovery Centers of America said it corrected the problems. Last year, the company filed an application to renovate a building at 8530 Township Line Road, off West 86th Street, into a 112-bed inpatient addiction-recovery center. The building was formerly home to Pyramid Point, a skilled nursing facility.
Recovery Centers of America currently has eight locations in Pennsylvania, Massachusetts, Maryland and New Jersey. The company says it offers therapies applied over a 30-day inpatient treatment setting, 12-step methodology immersion and outpatient services.
Prices range from $14,500 to $21,000 a month, much of it reimbursed from private insurers. The company does not accept Medicaid.
For that price, patients get a raft of services, including full-time medical and psychiatric care, said Deni Carise, the company's chief scientific officer.
"We use evidence-based practices. We believe in the use of medication where appropriate," she said.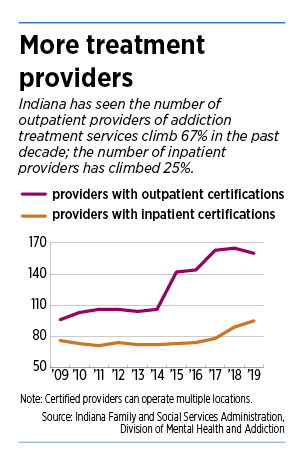 The private company had revenue last year of $150 million. It is backed with private equity from Deerfield Management, based in New York City.
A company spokeswoman, Terri Malenfant, declined to discuss safety concerns at the Massachusetts location.
"Rather than rehashing that, I will just say we are now in compliance at that facility," she said.
'Large and getting larger'
The traditional providers of health services, neighborhood hospitals, say they are trying to keep up with demand for addiction services.
Eskenazi Health, which serves mostly the poor and underinsured, last year treated more than 4,700 unique patients with addictions, up 66% from 2015.
"The need is large and getting larger," said Dr. Lisa Harris, Eskenazi's CEO. "It's pervasive."
In response, Eskenazi has expanded the number of inpatient beds for mental health and addictions from 20 to 30.
Other hospitals, too, are scrambling to beef up their addiction programs.
For years, Indiana University Health had offered addiction-treatment services only at its flagship location, Methodist Hospital downtown. But in the past nine months, it has added addiction-treatment programs to its hospitals in Bloomington, Avon, Muncie and Martinsville.
"We recognized that we had significant gaps," said Brad Bennett, service-line administrator for IU Health Physicians' psychiatry division.
That realization came, he said, after a steady increase in recent years of patients showing up in emergency rooms, primary-care offices and specialty-care clinics with a variety of addiction and psychiatric challenges. So about three years ago, IU Health decided it needed to make its addiction services more widely available. It began implementing them last fall.
IU Health does not offer inpatient services for addiction recovery, but an offering known as "intensive outpatient program," which consists of individual and group counseling, medication-assisted treatment, recovery coaching and other services as needed. Patients typically stay with the program up to six weeks, attending several hours a day, multiple times a week, Bennett said.
Already, the new programs are filling up, he said. "There's clearly an increased demand for these services."•
Please enable JavaScript to view this content.