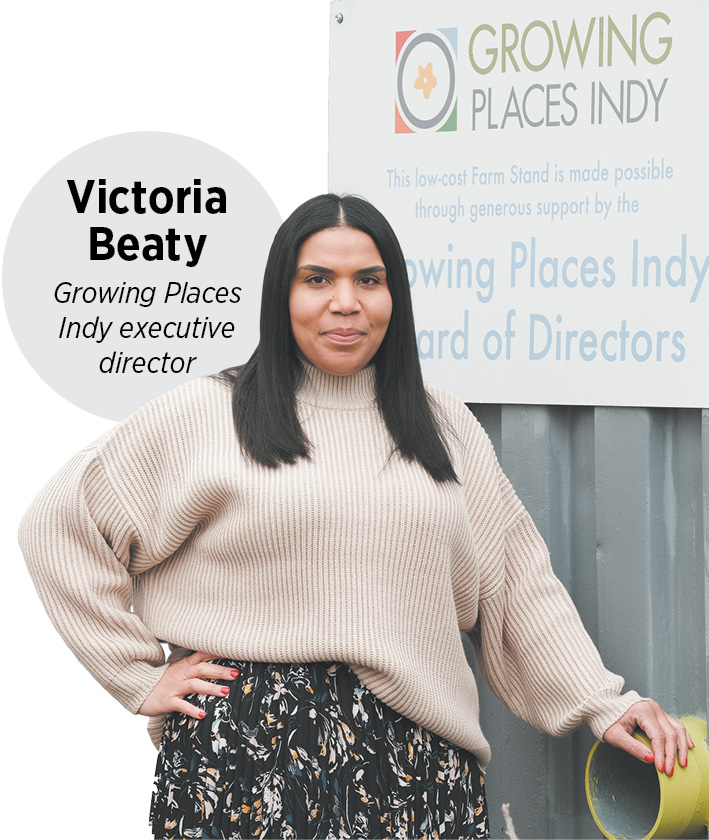 Victoria Beaty went from being an advertising executive for McDonald's, promoting its food in minority neighborhoods, to advocating for healthy lifestyles in Indianapolis.
She became executive director for Growing Places Indy in January, replacing Linda Cook, after starting as a volunteer in 2018 and spending time in a variety of other staff roles, including running the Indy Winter Farmers Market.
Tell me about how you got started with Growing Places Indy.
I applied for their apprentice program—it's a six-week program for adults, and they teach you how to farm.
I quit my job right after the program. I learned so much about the local food system and the urban farm community here, and I just wanted to learn more. I just told Growing Places: "I'm here for you guys … ." I just kind of made myself accessible.
What are some of the things you hope to do with Growing Places?
I want the community who lives in this area, especially as you get further down 10th Street, to know that this farm is a place for them and that they can use this space.
In the past, we've had the adult program that I went through. … It really teaches you all the different aspects around farming. But I think that taking that program and adapting to young kids would be even more successful. For those kids to be able to interact with this farm on a daily basis, be able to take food home that they actually grow themselves to their families, provide workshops for them, cooking classes. And then also understand that, in agriculture, there are so many different jobs.
It's really important for us to continue to grow the farmers market as well. We have a triple SNAP program, which is our food access program, where someone that comes in with $20 on food stamps, we will give them an additional $40. … We really want to expand the Winter Farmers Market for sure.
What made you change career paths and stop working in advertising for McDonald's?
I was so excited to work for this brand. But then as I started to learn more and more about this corporation—and many just like it—that they pour a lot of resources in poor communities that really just don't know any better. And they're profiting … . So, it's just realizing that we are kind of being targeted in a way.
That was when I decided, I can't do this anymore. I really wanted to learn about urban farming from the beginning and so I just kind of immersed myself into learning about how the actual food system works.
Tell me about your website Be Well Indy.
There's clearly a need for people to be active and have some sort of community as it comes to wellness and fitness, but there's no place for people to go find out about it. So I decided to launch Be Well Indy. And it was really focused on just highlighting the people and places that are impacting the wellness scene.
We have a roundup every week. We talk about free events or just events that are happening during the weekend. And then we also cover studio owners, fitness instructors, everything as it pertains to wellness.
We're almost 2 years old. … Now we're at a point where people are reaching out to us consistently and sending us stuff.
You know we don't charge anything; it's completely free. We don't do any ads or anything like that.•
Please enable JavaScript to view this content.