Shares in Eli Lilly and Co. plunged as much as 9% Monday after much-anticipated data from a study of its Alzheimer's disease drug fell short of investors' hopes.
Wall Street has been watching carefully to see if Lilly's experimental drug, donanemab, worked well enough in a midstage trial to be used widely by millions of patients suffering from the devastating disease.
But the Indianapolis-based drugmaker's results, which were announced Saturday, disappointed investors, who were hoping for stronger data that would indicate clear approval by federal regulators.
Alzheimer's disease is the only leading cause of death without a treatment to slow disease progression. The fatal illness causes decline in memory and other aspects of cognition, and is most commonly marked by dementia. More than 50 million people live with dementia worldwide, with 10 million cases diagnosed each year.
Several analysts said they had doubts that regulators would approve the drug without a larger study and stronger proof that it works.
"This phase II data falls short of market expectations that have arisen in part due to highly positive management commentary on both efficacy and safety," Citi analyst Andrew Baum wrote in a note to clients. "We continue to see the probability of regulatory approval on the back of this dataset as zero."
Lilly previously announced the top-line results in January, which sent the stock up 14% and doubtlessly gave a lift to Alzheimer's caregivers around the world. But the full results, published in the New England Journal of Medicine, gave a deeper picture of the drug's performance.
"Given our conversations with investors when the data first came out, it was clear that expectations were relatively high, which seemed strange to us given the lack of the detailed data and the continuous disappointments in the [Alzheimer's disease] space," SVB Leerink analyst Marc Goodman wrote in a research note.
Shares of Lilly were down 8.9% in midmorning trading, at $189.37, a drop of $17.77.
Early reviews from researchers of the Indianapolis-based company's study results for the experimental drug seem mixed. Some researchers said the results for donanemab showed high promise, but others said more study is needed.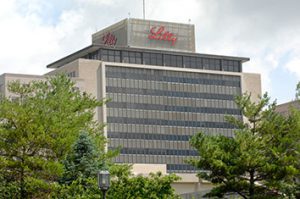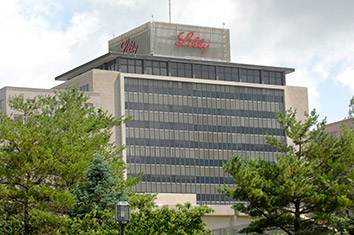 Caregivers around the world are eager to find a treatment for Alzheimer's disease, and any sign that a drugmaker is getting closer sparks interest on Wall Street.
Lilly researchers found that the drug slowed decline in cognition and daily function by 32% in patients with early symptoms of Alzheimer's disease, compared to a placebo.
The 18-month study involved 272 Alzheimer's patients.
Lilly also said the drug cleared large amounts of sticky plaque, known as beta amyloid, from the brain, as measured by imaging. The plaque, which builds up between the nerve cells of the brain, is one of the hallmarks of Alzheimer's disease.
The drugmaker said the results show donanemab "has the potential to become a very important treatment for Alzheimer's disease," and added it is discussing results with regulators around the world.
But is a 32% slowdown in decline enough to excite Alzheimer's caregivers, investors and federal regulators?
Judging from published comments, it was a good showing, but not a slam-dunk win.
"These results are encouraging," Maria Carrillo, chief science officer of the Alzheimer's Association, told The Wall Street Journal. "What we really need is to follow people for more time" to see if the apparent benefit holds up.
Others agreed that Lilly's results are heartening.
"I have been in this field a long time," Marwan Sabbagh, director of translational research at the Cleveland Clinic Lou Ruvo Center for Brain Health in Las Vegas, told Bloomberg News. "This is some of the best phase 2 data I have seen, hands down."
It's the first time a midstage study of a drug that attempts to slow Alzheimer's, not just allay patients' symptoms, has had a positive outcome, according to STAT, an online medical news site.
The study "showed some of the best early results" seen by pharmaceutical researchers in the field, STAT said.
"What divides many researchers is whether that is a reason for excitement or not," it added.
Lilly has spent three decades and more than $3 billion trying to find a way to treat Alzheimer's disease, only to notch up one expensive failure after another, including three large-scale defeats since 2010.
Some reviewers said Lilly puts its best spin on the results, and added that government regulators will want to see results from additional studies.
"It is notable how Lilly's bullish claims for the outcome contrast starkly with the much more moderate conclusions of the full paper," wrote Evaluate Vantage, an independent news site that covers pharma and biotech. "The authors conclude that donanemab resulted in 'modestly less cognitive and functional decline than placebo.' Slowing disease progression by half, which the trial was powered to show, was not achieved."
The New England Journal of Medicine, in its findings, cautioned that the drug may not be quite ready to go to market.
"Longer and larger trials are necessary to study the efficacy and safety of donanemab in Alzheimer's disease," the medical journal wrote.
The authors concluded that donanemab resulted in "modestly" less cognitive and functional decline than placebo.
Lilly is continuing a companion study. If that turns out favorably, the drugmaker said it plans to submit donanemab to federal regulators for review.
The failure rate of experimental drugs for Alzheimer's is astoundingly high.
From 1998 to 2017, there were 146 unsuccessful attempts to develop medicines to treat and potentially prevent Alzheimer's, according to a report issued in 2018 by Washington, D.C.-based Pharmaceutical Research and Manufacturers of America, an industry trade association.
During the same time, the industry launched only four treatments for the disease. Those treatments only helped manage symptoms; they did nothing to slow progression.
Experimental drugs for neurological diseases, including Alzheimer's, tend to be the most risky and expensive in medicine. According to a 2006 study by the Federal Trade Commission, only 25% of experimental Alzheimer's drugs are likely to be submitted for federal approval, compared with 44% for breast cancer or HIV.
Please enable JavaScript to view this content.