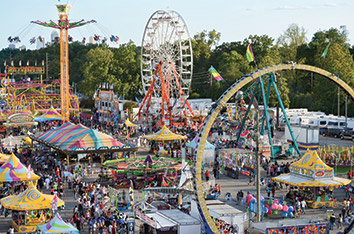 After taking a year off due to the pandemic, the Indiana State Fair says it will be back this summer.
The Indiana State Fair Commission announced Tuesday that the fair will be July 30 to Aug. 22 but may look a little different to meet health requirements.
Among the changes are an additional weekend added at the beginning of the fair schedule. During its run, the fair will be closed on Mondays and Tuesdays.
"We are thankful to the State Department of Health for their collaboration and continued guidance on getting us back to hosting this important community event," Cindy Hoye, the fair commission's executive director, said in a written statement. "We know this year's state fair may look a little different, and we are prepared for that. By adding an additional weekend, it allows us to spread fair attendance across a new weekend."
The fair didn't say what other changes may be in store. But it said it expects to bring back much of its deep-fried goodness, including carnival rides, food booths, 4-H competitions and entertainment.
Fair officials said this year's theme will celebrate all things Indiana and the resiliency of the Hoosier spirit.
While most fair activities were cancelled last year, the fair did offer a modified livestock show.
Please enable JavaScript to view this content.