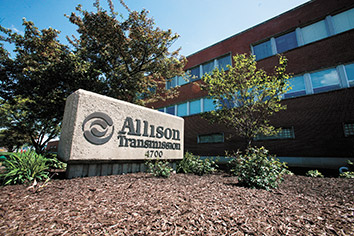 Indianapolis-based Allison Transmission has been awarded a $6.5 million contract from the Department of Defense as the U.S. Army continues to look for the next generation of armored combat vehicles.
The company said late last week that it would use round of funding to develop and test an electric hybrid sub-system in Allison's Next Generation Electrified Transmission.
Allison said its NextGen transmission, if accepted, will be part of the U.S. Army's Optionally Manned Fighting Vehicle, or OMFV. The OMFV will replace the nearly 3,000 Bradley armored vehicles that carry troops into battle.
Allison has been selected by Michigan-based American Rheinmetall Vehicles, which is one of five manufacturers vying for the DOD contract, to provide electrified transmissions.
The transmission features a 220-kilowatt electric motor and associated inverter for on-board vehicle power. Allison said its technology results in a significant reduction in fuel consumption and reduced thermal and acoustic signatures.
"The Next Generation Electrified Transmission will provide far more than power generation," said Dana Pittard, vice president defense programs at Allison Transmission, in written remarks. "Our technology will deliver electric hybrid propulsion using blended torque that provides edge-of-the box performance or true engine-off silent mobility. Allison has two decades of expertise with electric hybrid propulsion technology. We're committed to continuing to lead the way in developing innovative technology that will help the U.S. military to successfully accomplish the mission."
The OMFV is expected to not only transport soldiers into combat but launch drones and operate autonomously on the battlefield.
DefenseNews.com reported the prototyping phase of the OMFV will begin in fiscal year 2025 with the Army expected to select the winning contractor in the fourth quarter of fiscal year 2027. Full production would begin in 2030.
Please enable JavaScript to view this content.