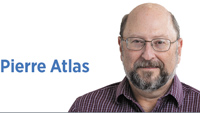 My wife and I recently returned from a two-week vacation in Italy. We spent a few days in the countryside with family, and visited Milan, Genoa, Venice, Florence and Rome. We drove a rental car along narrow, well-paved country roads and on major highways as smooth as glass. We rode commuter and high-speed trains linking the major cities, experiencing travel in both economy class (what Italians call "second class") and luxurious business class railroad cars.
Besides the history, art and beauty of Italy, what struck me about my first visit to that country was the quality of its transportation infrastructure. Of course, Italy has its deficiencies in this sector. On Aug. 14, 2018, a 200-meter-long section of the Morandi Bridge in Genoa collapsed during a severe rainstorm, killing 43 people.
It was a horrific tragedy that received international media coverage. I didn't see that particular bridge, but I did see government workers inspecting (and repairing when necessary) every bridge we drove over.
One of the old jokes about Italian fascism was that at least Mussolini "made the trains run on time." Based on my anecdotal experiences, I can say this is the case for Italian democracy as well. Our train travel in Italy was surprisingly efficient, comfortable and inexpensive. The train stations were clean and well maintained. All the major cities (with the exception of Venice, with its canals) had subways and/or light rail public transportation.
Italy is not unique. Major cities in every European country I have visited have some sort of light rail and are connected to one another by train. The fastest I've ever traveled on the ground is 268 mph, on a Mag-Lev bullet train to the Shanghai airport. What is unique, sadly, is the poor quality of American transportation infrastructure.
Much of America's transportation infrastructure is old, low-tech and, in many places, rapidly deteriorating. The American Society of Civil Engineers issues a report on the state of U.S. infrastructure (roads, bridges, dams, airports, schools, electric grid, etc.) every four years. It gave the nation's infrastructure an overall grade of D+ in 2017 (the same grade it gave in 2013).
The ASCE estimates the cost of addressing all our major infrastructure deficiencies at $4.5 trillion. The United States has more than 200,000 bridges that are more than 50 years old; according to the ASCE, the tab for all bridge repairs is $123 billion. As for roads, the report estimates that one-third of urban roads and about one of every six rural roads are in need of repair. According to the U.S. Department of Transportation's 2015 report to Congress on the status of the nation's highways, bridges and transit, the cost for addressing the backlog of needed transportation repairs and upgrades is $836 billion.
Building and maintaining transportation infrastructure—which is essential to facilitating and growing a national economy—has been a fundamental role of government since our nation's founding. From its earliest years, the federal government invested in roads, harbors, canals and locks. In the 19th century, all regions of the United States were connected by federally funded or subsidized local and intercontinental railroads, and were connected again with the interstate highway system starting in the 1950s.
In our deeply divided polity, surely one thing Americans can agree on is the need to repair and improve our infrastructure. The tab will be high, but the payoff even higher: in increased safety, more jobs, and a more efficient and profitable system of interstate commerce.•
__________
Atlas is a professor of political science and director of The Richard G. Lugar Franciscan Center for Global Studies at Marian University. Send comments to ibjedit@ibj.com.

Click here for more Forefront columns.
Please enable JavaScript to view this content.