Is Virginia's approval of the ERA meaningful?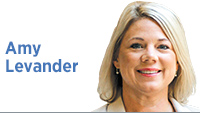 Virginia's approval of the ERA is meaningful. Legally, practically and symbolically, the ERA amendment will have impact. Legally, a constitutional amendment helps to set a clear standard for legal review of laws, regulations and government actions. Practically, given the facts on equality in income, elected official representation and corporate leadership, it would be hard to say that women have achieved equality. Symbolically, it certainly lets the next generation grow up under a different set of norms that hopefully make it that much easier for a girl to believe she can do and be whatever she wants.
I believe that we are seeing some of those cultural shifts now. Enacting the ERA solidifies the principle of gender equality in our Constitution. To those who say it is unnecessary, I would argue that if it makes a difference for one girl, young lady or woman, then it makes it worth it and absolutely necessary.
While Indiana voted to ratify the Equal Rights Amendment on Jan. 24, 1977, we still have work to do to ensure that gender equality is a reality for women who live in our great state. The Legislature has regularly debated bills that impact gender equality over the last few years. Last year, the Legislature enacted a bill that specifically excluded sex in deciding on a legal standard for harm in a statute that deals with the criminal code. Just last week, the Indiana Senate turned a bill to require reasonable accommodations for pregnant women in workplace settings into a study committee.
Conversation about the ERA has reignited the conversation around wage disparity and spurred the introduction of bills that highlight practices that negatively impact women in Indiana. A bill authored by Rep. Carolyn Jackson would prohibit an employer from asking a prospective employee to disclose his or her current salary. This is a practice that has been shown to keep women's wages depressed in comparison to male counterparts, as women are often coming from positions where they're already earning less. Legislation outlawing inquiries about pay history has been enacted in 17 states.
So, does a piece of paper with the words ERA on it "do" anything? It is nothing more than that if government, business and community leaders don't act on it. Pushing gender equality back to the forefront of conversation creates an opportunity for us all to make purposeful strides toward securing gender equality in both the public and private sectors.
I am proud to also serve as the executive director of Hoosier Women Forward, a Democratic women's leadership training program. By creating networks of engaged, empowered, women leaders, we take one more step towards finally shattering the glass ceilings that exist in our political and corporate structures. We all have a role to play in ensuring that the passage of the Equal Rights Amendment is more than just words on paper.
I am hopeful that the conversation about how to achieve women's equality continues in earnest. Now, the hard work is what remains to be done. Intentional action creates intentional results. Ensuring that corporate and philanthropic boards as well as our political institutions represent and reflect our populous is a goal we should all not only strive for but demand of our leaders across all sectors.•
__________
Levander is executive director of governmental affairs at Krieg DeVault. Send comments to ibjedit@ibj.com.

Click here for more Forefront columns.
Please enable JavaScript to view this content.