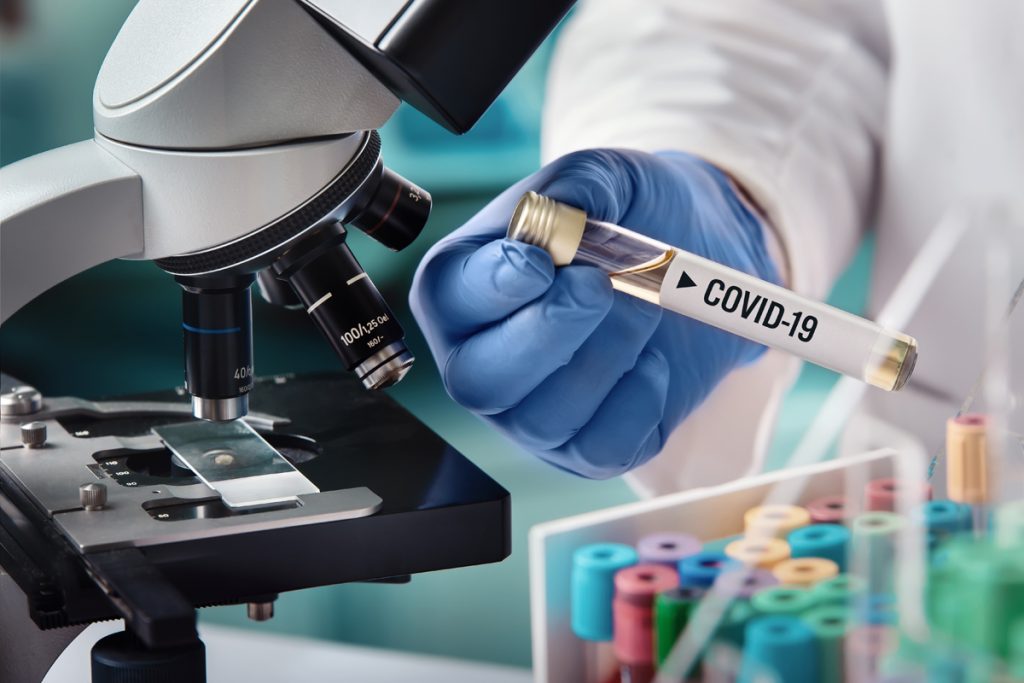 About 186,000 people in Indiana were estimated to be infected or previously infected with COVID-19 at the end of April, according to preliminary study results released Wednesday by the Fairbanks School of Public Health at IUPUI.
The school, in partnership with the Indiana State Department of Health, based the estimate on testing for COVID-19 and its antibodies it conducted from April 25 to May 1.
The tests involved 4,611 randomly selected Hoosiers representing all demographics and regions in the state. Those tested were both showing symptoms of the virus and the asymptomatic.
"Ideally, you know, we really would like to test every single Hoosier, but the next best thing to doing that is random sample testing—a scientific approach that allows us to confidently assess how COVID-19 has spread in Indiana, without really having to test everyone, which is just not feasible," said Paul Halverson, founding dean of the Fairbanks School of Public Health.
The testing found 1.7% of those tested had the virus and another 1.1% had antibodies for the virus, indicating a previous infection. Adding those together, researchers came up with a 2.8% infection rate.
That rate indicates 186,000 people in the state had been infected as of May 1. Actual testing at the time, mostly conducted on symptomatic people, showed about 17,000 cases in the state.
"Only about one out of every 11 true infections were identified by tests," said Nir Menachemi, chair of the health policy and management at Fairbanks.
The study, which is in its first phase and subject to adjustments, showed an infection death rate of 0.58%. In comparison, the death rate of those with the seasonal flu is about 0.1%.
It also showed 44.8% of those who are infected experience no symptoms.
State officials and Fairbanks researchers said that is why it's important for Hoosiers to continue social distancing and wearing a mask while in public.
"We should all conduct ourselves like we are infected," Indiana State Health Commissioner Kristina Box said. "And it's been a little heartbreaking for me to see some of the pictures that people have been sending in where people are standing in line back to back next to each other. They're not social distancing, and people are not wearing masks."
And Fairbanks researchers stressed that even with 186,000 Hoosiers already being infected, millions more still have not gotten the disease.
"As we slowly phase back and reopen the economy, we need to be extra vigilant with any and all safety precautions, so that we do not lose the ground that we gained by hunkering down," Menachemi said.
The Fairbanks research also showed that people who live with an infected person are 12 times more likely to get the virus than those who don't.
A second wave of testing is scheduled for June 3-7, which is slightly delayed from the initial dates suggested for the second round.
Menachemi said they decided it was better to wait until after the Memorial Day holiday to maximize participation, and researchers wanted to conduct the second wave after more of the economy had reopened so the data can provide a better understanding of what kind of impact the looser restrictions have on the spread of COVID-19.
"If we just tested everyone today when, you know, everything is still pretty much hunkered down, we wouldn't expect to see that much of a change," Menachemi said.
Gov. Eric Holcomb allowed most of the state to begin reopening on May 4. His five-stage approach calls for restrictions being completely lifted by July 4, but he has said he is willing to adjust the schedule as needed.
"If I walked away from this study with anything in my head, it's this is a long road ahead," Holcomb said.
Please enable JavaScript to view this content.