The headquarters building of Indianapolis' newest publicly traded company, home-health care provider Apria Inc., does nothing to call attention to itself.
It sits behind a car wash, a grocery store and a self-storage lot off of Interstate 65, near the intersection of Emerson Avenue and Southport Road. The front doors are locked, and a sign instructs visitors to call for an appointment.
Inside the cavernous, 83,000-square-foot building, about 50 people work, mostly in distribution—sending oxygen kits, nebulizers, sleep-apnea masks and other supplies to branches across the Midwest, where home-health specialists deliver the products to people with chronic conditions and monitor their progress.
Just six years ago, the building reverberated with the sounds of about 250 workers, who covered a wide range of functions, from billing operations to a call center. But Apria, based until last month in the Los Angeles area, where it was founded in 1995, has shifted much of that work to other parts of country.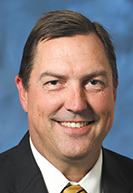 Even so, a reverse migration of sorts is about to happen, although on a smaller scale. In recent months, Apria has quietly been working to bring its headquarters to Indianapolis, a move that could double the workforce here to about 100 in a year or so. And further growth is possible, CEO Dan Starck told IBJ.
He cautioned that the expansion won't take place overnight, but over months and even years. "We're not picking up and transplanting the jobs immediately," he said.
Starck, who has led the company since 2015, has already arrived in Indianapolis from California. He is living on the northeast side, near Geist Reservoir.
"I was the first" to come, he said. "I'm a pioneer."
The choice of Indiana came after Starck decided to move the headquarters to a "very business-friendly" state in the central part of the country. He plans to refurbish the Indianapolis building to accommodate the incoming staff.
California is known for high taxes and myriad regulations. "Having a corporate headquarters in one of the most expensive areas of the country isn't conducive to running a long-term sustainable business," he said.
The company has not sought nor accepted tax incentives for the move, Starck said, but might pursue incentives in the future.
On Feb. 11, the company was set to mark another milestone—going public. Apria was to sell 7.5 million shares, a move expected to raise more than $140 million.
It's the first traditional IPO for the Indianapolis area in several years, although several companies have gone public through a mechanism known as SPAC, or special purpose acquisition companies, which are shell companies with no operations when they go public.
But in the traditional sense, Indianapolis has had a dry spell of IPOs. Some of the recent ones include American Resources Corp. (2017), Elanco Animal Health (2018) and IEA Energy Services (2018).
This is actually Apria's second IPO. The company went public in 1995, and stayed public for 13 years until it was bought in 2008 by Blackstone Group, a New York investment company, for $1.6 billion.
Blackstone, with assets of more than a half-trillion dollars under management, owns a sweeping array of businesses, from hotels and resorts to medical-device makers and software companies.
Its strategy is often to buy undervalued or struggling operations; make them more profitable, often through severe cost-cutting; then sell them or take them public.
Starck said the public offering is just the first step in Blackstone's gradual exit from Apria. Today, Blackstone owns about 95% of the company.
"Over the next few years, they'll sell down," he said. "They will exit the business over time."
Good timing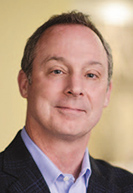 Some outside mergers and acquisitions experts say Blackstone is picking a good time for an IPO. The markets are hot and many initial public offerings in health care are taking off.
Two years ago, a smaller home-health company, AdaptHealth Corp. of suburban Philadelphia, went public at $9.70 a share, and its stock has since surged to the mid-$30s. AdaptHealth supplies oxygen, wheelchairs, walkers, sleep therapy and other home-health supplies and services.
"Apria plays in a lot of the same markets as AdaptHealth," said Pat Clifford, managing director at Braff Group, a mergers and acquisitions advisory firm based in suburban Chicago. "So I kind of imagine Apria was thinking this is a good time [to go public] based on similar valuations to AdaptHealth."
Another factor: Reimbursement prices on home-health services from Medicare and Medicaid have begun to stabilize after several years of price cuts.
On top of that, the respiratory market has surged, as patients have opted to stay home during the pandemic, rather than venture to a clinic or hospital for treatment.
"Right now, this particular sector of health care is very strong," said Jonathan Sadock, managing partner and CEO of Paragon Ventures, based in Newtown, Pennsylvania. "And the fact that home-health care has come through the pandemic–it's something that people value even greater to keep patients out of the hospital."
Apria delivers a wide range of medical supplies to homes, and provides therapists and nurses to help the patients use them.
In 2019, the company made nearly 2.4 million deliveries and had 744,000 interactions with patients.
The company rang up $1.1 billion of net revenue in 2019, along with $15.6 million in profits.
And the road ahead seems to be in its favor: An aging population, a rising number of chronic diseases, and an overall shift toward home care is giving the company a fair amount of wind at its back.
The Centers for Medicare and Medicaid Services estimated revenue of the U.S. home-health care market at $108.9 billion in 2019 and forecast it to grow at an annual compound rate of 7% from 2020 to 2028.
Speed bumps
Yet, Apria has had its share of bumps since it formed in 1995, the result of a $1 billion merger that brought two companies, Abbey Healthcare and Homedco, together to form one of the largest players in the industry.
The goal was to let two competitors use their expanded reach and size to dominate the market. But the combined company quickly ran into trouble. To cut duplication, Apria collapsed 525 branches into 350, while trying to assimilate two different computer systems.
Apria's stock price fell almost 50% in the second year of combined operations as it repeatedly failed to meet its earnings targets.
All workers had to reapply for their jobs, but with the combination of two large companies, there weren't enough spots to keep everyone. The company laid off more than 1,000 people.
"As the waves of layoffs claimed one sales rep after another, that turnover was hard to conceal from increasingly concerned customers, who were sometimes confused and unclear about whom they were dealing with," Fortune magazine reported in 1997.

Apria's No. 2 executive, Steven Plochocki, president and chief operating officer, resigned in September 1997, barely two years after the merger. The Wall Street Journal called it the "latest sign of trouble at the nation's largest home-health-care company."
Apria put itself up for sale in 2005 but withdrew the offer after only a few months, a sign that buyers weren't interested, according to Private Debt Investor, a publication serving the private credit markets.
In 2008, Blackstone swooped in to buy the struggling company, then began even more cost-cutting. Today, Apria has about 6,350 employees, down from a peak of 9,500 in 2012.
Settlement
And last month, Apria hit one of its biggest bumps to date, agreeing to pay $40 million to settle a complaint that it violated the False Claims Act by seeking Medicaid reimbursement for ventilation machines that were not medically necessary or reasonable.
According to the settlement agreement, Apria had targeted the non-invasive ventilation sector as one of its key business priorities.
Non-invasive ventilation is a method of helping patients breathe without using an invasive airway tube. Instead, the patient wears a tightly fitting mask attached to a portable ventilator.
Apria's internal analysis indicated that rentals in this segment would be profitable, thanks to the hefty government reimbursement rate of about $1,400 a month, according to the settlement agreement.
Starting in August 2014, Apria implemented a series of marketing programs to encourage physicians to order NIVs for their patients. Yet the company failed to conduct in-home visits to verify that patients were still using the equipment. Even when its respiratory therapists indicated that patients had stopped using the equipment, Apria "often did not take steps to stop seeking payments," the settlement agreement said.
A whistleblower lawsuit led to a major investigation that wrapped up last month and brought the company plenty of criticism.
"When a health care company gets lazy and neglects its duty to stay within the bounds of the law, its actions can pose a threat to the health and well-being of those who rely on their products and services," California Attorney General Xavier Becerra said in a statement.
"We will not allow bad actors to falsify forms or blatantly bill Florida taxpayers for services never rendered or not medically necessary," Florida Attorney General Ashley Moody said in a statement.
In an interview with IBJ, Starck declined to comment on those characterizations.
"We are happy to have this behind us," he said. "And we are now able to get back to focusing only on making sure that we fulfill our mission, which is improving the quality of life for our patients at home."
New beginnings
Yet the pandemic has caused other problems. While Apria's oxygen business segment has been doing well, due to the chronic nature of asthma and other respiratory diseases, other product lines have struggled.
Products for sleep therapy and surgical wounds require patients to be diagnosed or treated, often in a hospital. And last year, as the pandemic raged across the country, many patients put off elective surgeries and minor health concerns such as sleep problems.
"Really, the health care system was pretty disjointed in 2020, very much focused on just treating COVID," Starck said.
In fact, the company relies heavily on the health care system to keep a steady stream of patients flowing to its products. Apria is not a consumer-products company nor a company whose brand is well-known outside of health care circles.
"Someone generally comes to Apria, or one of our competitors, because something bad has happened in their life, and they've had a health care situation that needs attention," Starck said.
The name "Apria" is Latin and translates roughly into "new beginnings."
"It's another new beginning for our company," Starck said, "both in the corporate location as well as a public company."•
Please enable JavaScript to view this content.