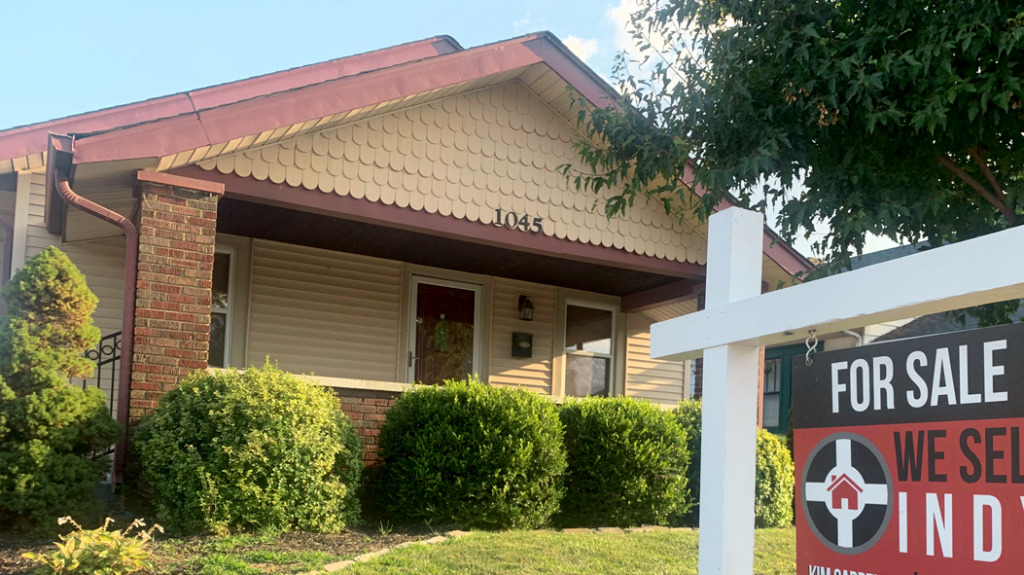 Sales of existing homes in central Indiana continued to slow in June amid rising mortgage rates, but the median home price hit another high.
Completed sales of single-family homes in the 16-county area fell from 3,960 in June 2021 to 3,711 last month—a year-over-year decrease of 6.3%, according to the latest data from the MIBOR Realtor Association.
On a year-to-date basis, closed sales are down slightly, by 1.1%, to 17,493, compared with 17,687 in the first six months of 2021.
The median price for homes sold in the area last month was up a whopping 19.8%, to a record high of $300,000, compared with $250,316 in June 2021.
Area homeowners in June, on average, got 101.9% of their asking prices, down from 102% in the same month of 2021.
The average number of days houses spent on the market remained at 14, same as a year ago.
The active inventory in June was up 63.6% on a year-over-year basis, to 3,414 houses. The inventory rose 47% from the previous month. Higher inventories could help bring down prices in coming months.
New listings increased 10.8% in June on a year-over-year basis, to 4,925, and were up 15.9% from the previous month.
"June data shows another all-time record was set with a median sales price breaking out of the twos at $300,000," said Shelley Specchio, MIBOR CEO, in written remarks. "This month, we saw a significant rise in new listings with only a slight decline in sales, giving buyers renewed optimism of finding a home. As seen in other areas of the country, the market is beginning to soften, but remains highly competitive."
 Sales have been on the downturn in typical residential hotbeds Hamilton, Johnson and Marion counties, but have been on the rise in Hancock and Morgan counties.
Marion County
In Marion County—the most active market in central Indiana—closed sales in June were down 12.6% on a year-over-year basis, to 1,378.
The median sales price in the county rose 13.6%, to $250,000. New listings increased 9.9%, to 1,881. The active inventory of available single-family homes jumped 39%, to 1,251.
Other area counties
In Hamilton County, where inventory has been extremely tight, sales dipped 2.1%, to 689, in June.
The median sales price in the county rose 15%, to $437,000. The inventory of houses jumped 62.6%, to 496. Homes spent 12 days on the market, on average, and fetched 103.7% of their asking price.
In Hendricks County, sales increased 5.4%, to 294, and the median sales price increased 21.1%, to $345,000.
In Johnson County, sales dropped 16.5%, to 279, and the median sales price rose 25%, to $325,000.
Sales fell 19.7% in Madison County last month, to 175. The median sales price increased 13.2%, to $192,500.
Hancock County sales were up 18.7%, to 197, and the median price rose 32.4%, to $345,000.
Sales in Boone County slipped 2.2% last month, to 136, while the median price of a home jumped 17.8%, to $430,000.
Morgan County sales escalated 6.8%, to 125, and the median sales price increased 19.5%, to $263,000.
Shelby County saw 67 closed home sales last month, up from 43 in June 2021. The median price rose 35%, to $250,000.
Please enable JavaScript to view this content.