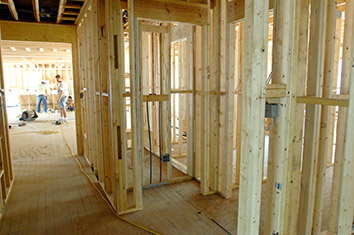 Demand for new homes remained at a torrid level in central Indiana in May, according to the latest numbers from the Builders Association of Greater Indianapolis.
Builders in the nine-county Indianapolis area filed 967 single-family building permits during the month, up 48% from May 2020, when 655 permits were filed.
The last time filings were so high in May was in 2005, when 1,214 permits were recorded.
So far this year, 4,676 permits have been filed in the area, up 49% over the first five months of 2020.
More filings have already been filed in the first five months of this year than in all of 2012 (4,182).
Filings in central Indiana have risen on a year-over-year basis in 17 of the past 18 months.
BAGI chief executive Steve Lains said relatively low interest rates are driving demand in a market short of available existing houses, overcoming high prices for construction materials.
"With lumber pricing so irregular, the new home market has also become unpredictable," Lains said in written remarks. "Builders are still seeing constraints on product availabilities and are also concerned about the opportunity to obtain approvals for projects in the future."
County numbers
– In Marion County, permit filings fell 4%, from 118 in May 2020 to 113 last month.
– New-home hotbed Hamilton County saw 295 filings last month, a year-over-year increase of 95%.
– Hendricks County's numbers were up 52% in May, to 175.
– Hancock County saw permits dip 2%, to 83.
– Johnson County saw a 3% decrease in filings last month, to 75.
– Filings were up 91% in Boone County, to 67.
– Madison County filings increased 61%, to 61.
– Morgan County filings soared from 18 to 66, an increase of 267%.
– Filings rose from seven to 32 in Shelby County.
Please enable JavaScript to view this content.