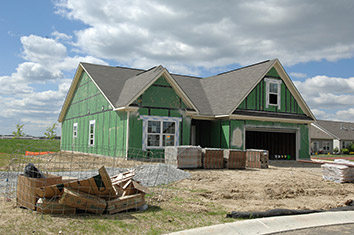 Interest in buying new homes in central Indiana surged dramatically in the first quarter, before the effects of the COVID-19 pandemic began taking its toll on the economy.
Applications for home construction permits soared 20% in the Indianapolis area in March, marking the eighth monthly increase in the past nine months on a year-over-year basis.
Single-family building permit filings are up 24% so far this year over the first three months of 2019.
Builders filed 680 permits in the nine-county area last month, compared with 566 permits in March 2019, according to the Builders Association of Greater Indianapolis.
March's big increase followed a 34% escalation in filings in February and an 18% rise in January.
"March permits continue to indicate a strong demand in our market," said Steve Lains, CEO of BAGI, in written remarks. "However, the strength in March permit numbers is primarily made up of the prior month's sales. We still anticipate healthy April numbers as well, due to the success of the market prior to mid-March, when communities and builders began transitioning to remote permitting in light of the coronavirus. We expect to have a better gauge of the virus's impact on our market after evaluating May's permit numbers."
BAGI President Todd Pyatt said builders are adjusting to the health crisis by doing as much business virtually as possible. One example is BAGI's annual downtown home tour, Indy Rama, which has been converted into a virtual tour starting Friday at indyrama.com.
County numbers
Marion County permit filings dropped 29% in March on a year-over-year basis, from 135 to 96.
Hamilton County saw filings droop 2% during the month, to 190.
Hendricks County's numbers escalated 130%, to 147.
Johnson County saw a 5% increase last month, to 69.
Hancock County saw permits rise 89%, to 51.
Filings rose 103% in Boone County last month, to 71.
Filings dipped from 17 to 27 in Morgan County.
Madison County filings increased from 15 to 30.
Filings rose from three to nine in Shelby County.
National numbers
U.S. home-building activity sank in March as the coronavirus spread, with housing starts tumbling 22.3% from a month ago.
However, compared to a year ago, housing starts were up 1.4% and permit filings rose 5%.
The Commerce Department said Thursday that ground breakings occurred last month at a seasonally adjusted annual rate of 1.2 million units, down from a 1.56 million pace in February.
Construction of single-family houses fell 17.5%, while apartment and condo starts were off 32.1% from a month ago.
There was a 6.1% decline in the completion of homes being constructed, which means many homes are being left partially built.
Construction activity will likely continue to slow. There was also a 6.8% drop in permits to begin construction in March compared to February.
Homebuilders have become fearful. A confidence index released Wednesday by The National Association of Home Builders and Wells Fargo plunged 42 points in April, to a reading of 30, the largest single monthly change in the history of the index. Any reading below 50 signals a decline.
Please enable JavaScript to view this content.