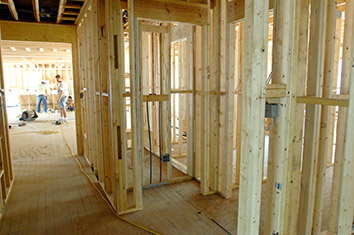 The central Indiana home construction market continued to slow in April, according to the latest numbers from the Builders Association of Greater Indianapolis.
Builders in the nine-county Indianapolis area filed 801 single-family building permits last month, down 19% from April 2021. Permit filings have fallen on a year-over-year basis for the past four months and in seven of the past nine months.
Builders are coming off their busiest year since 2005, but 2022 hasn't seen a positive month yet. Builders filed 3,098 permits during the first four months of the year, a 16% decrease from the same period a year ago.
Rising mortgage rates, supply-chain issues, increasing costs and limited lot availability are hampering the market.
Nationally, permits for homebuilding fell to a five-month low in April. But the Commerce Department on Wednesday reported a record backlog of houses still to be constructed, which means builders remain busy even as applications for new homes are slowing.
County numbers
Permit filings increased in only one of the Indianapolis area's nine counties in April:
– Marion County reported 89 single-family building permit filings in April, a year-over-year decline of 23%.
– Hamilton County, typically the busiest area county for home construction, saw filings sink 11% in April, from 331 to 296. Year-to-date filings are down 25% in the county.
– Hendricks County's numbers fell 57% last month, to 62.
– Hancock County saw April permits decrease 36%, to 84.
– Johnson County experienced a 51% rise in filings last month, to 131.
– Filings dropped 13% in Boone County last month, to 55.
– Madison County filings were down 10%, to 55.
– Morgan County filings sank 39%, to 23.
– Shelby County filings dropped 74%, from 23 to 6.
Please enable JavaScript to view this content.