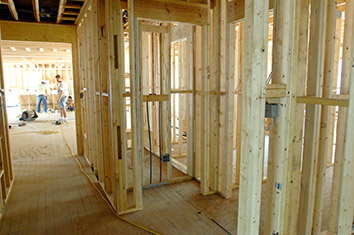 Applications for newly built houses are continuing to trail last year's pace in central Indiana, but homebuilders remain busy, according to the Builders Association of Greater Indianapolis.
Builders in the nine-county Indianapolis area filed 850 single-family building permits in June, down 18% from the same month of 2021. Permit filings have fallen on a year-over-year basis for the past six months and in nine of the past 11 months.
Builders are coming off their busiest year since 2005, but 2022 hasn't seen a positive month in filings yet. Builders have filed 4,971 permits during the first half of the year, a 13% decrease from the same period a year ago.
Rising mortgage rates, supply-chain issues, increasing costs and limited lot availability are hampering the market, according to industry experts.
Despite the decrease in permit filings, local homebuilders and suppliers remain busier than ever, according to BAGI CEO Steve Lains.
"While sale leads have slowed, builders remain busy finishing homes previously sold," Lains said in written remarks. "Most builders have been leery of beginning too many new homes at one time as the construction trades and suppliers struggle to keep up with homes already sold and contracted."
Lains said that builders remain optimistic because an increase in land development is encouraging for new home construction activity.
County numbers
– Marion County bucked the area trend by reporting 165 single-family building permit filings in June, a year-over-year jump of 31%.
– Hamilton County, typically the busiest area county for home construction, saw filings sink 27% in June, from 382 to 280. Year-to-date filings are down 25% in the county.
– Hendricks County's numbers fell 46% last month, to 73.
– Hancock County saw June permits increase 28%, to 97.
– Johnson County experienced an 18% rise in filings last month, to 97.
– Filings dropped 42% in Boone County last month, to 52.
– Madison County filings were down 66%, to 20.
– Morgan County filings sank 4%, to 54.
– Shelby County filings dropped 60%, from 30 to 12.
Please enable JavaScript to view this content.