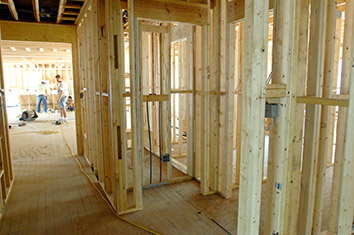 Hampered by supply-chain issues and labor shortages that are delaying building times and increasing prices, the Indianapolis area saw its third straight monthly drop in residential construction permit filings in October.
Homebuilders in the nine-county Indianapolis area filed 845 single-family building permits during the month, down 7% from October 2020, when 904 permits were filed, according to the latest numbers from the Builders Association of Greater Indianapolis.
Monthly permit filings in the area had risen for 14 straight months on a year-over-year basis prior to August. Filings have fallen in just in four of the past 23 months.
The recent slump has slowed what had been a torrid pace for the local home-construction industry. Permit filings are still easily on pace to have their biggest year since 2005.
So far this year, 8,884 permits have been filed in the area, up 24% over the first 10 months of 2020.
Steve Lains, CEO of the Builders Association of Greater Indianapolis, said in a letter to potential home buyers that "systemic issues" are "disrupting job schedules and project pricing" amid "unprecedented demand for new residential construction and remodeling projects."
Lead times for common building components have jumped from a few weeks to several months. Cabinets, for instance, are taking up to eight months to receive when the typical time is about three weeks.
Lead times for windows, appliances, garage doors and faucets have seen major jumps while prices have escalated, in some case as much as 100%.
"These are not isolated vendor or builder issues, but these are issues that all professional members of the housing industry are trying to navigate," Lains said.
County by county
– In Marion County, permit filings bucked the trend by rising 10%, from 115 in October 2020 to 127 last month.
– New-home hotbed Hamilton County saw 200 filings last month, a year-over-year decrease of 30%.
– Hancock County saw permits drop 4%, to 116.
– Hendricks County's numbers decreased 20%, to 112.
– Johnson County saw 112 filings in October, an increase of 51%.
– Filings were up 52% in Boone County, to 79.
– Madison County filings rose 51%, to 77.
– Morgan County filings sank from 50 to 15, a decrease of 70%.
– Filings dropped from 14 to seven in Shelby County.
Please enable JavaScript to view this content.