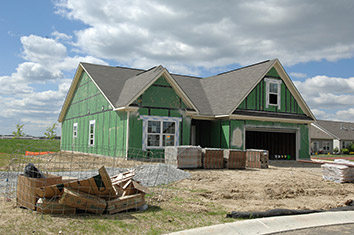 After a three-month streak of declining numbers, Indianapolis-area builders received a surge of interest from new-house buyers in November.
Homebuilders in the nine-county Indianapolis area filed 714 single-family building permits during the month, up 3% from November 2020, when 695 permits were filed, according to the latest numbers from the Builders Association of Greater Indianapolis.
Monthly permit filings in the area had risen for 14 straight months on a year-over-year basis before hitting a mild three-month skid that started in August. Filings, however, have fallen in just four of the past 24 months.
The three-month slump did little to cool the best year for area homebuilders since 2005. So far this year, 9,583 permits have been filed in the area, up 22% over the first 11 months of 2020.
That number already tops the full-year number from 2006, when 9,514 permits were filed. Area builders remain far off the pace set in 2005, when 13,202 permits were filed.
Builders have remained busy even when permit filings slowed while trying to catch up with high demand from early this year.
"Our industry is working to catch up with the backlog we are seeing across all housing activity," Steve Lains, CEO of the Builders Association of Greater Indianapolis, said last month. "We expect to see this trend continue well into next year as everyone in the homebuilding industry is dealing with the challenges of ever-increasing supply pricing, supply chain delays and decreased labor."
County by county
– In Marion County, permit filings fell 17%, from 72 in November 2020 to 60 last month.
– New-home hotbed Hamilton County saw 198 filings last month, a year-over-year decrease of 21%.
– Hancock County saw permits skyrocket 132%, to 146.
– Hendricks County's numbers decreased 23%, to 80.
– Johnson County saw 88 filings in November, an increase of 16%.
– Filings were up 3% in Boone County, to 65.
– Madison County filings rose 38%, to 47.
– Morgan County filings rose from 19 to 23, an increase of 21%.
– Filings dropped from 13 to seven in Shelby County.
Please enable JavaScript to view this content.