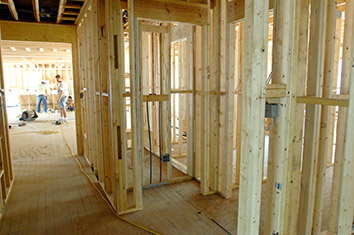 A slump in area residential building that encompassed all of 2022 showed little sign of fading in the first month of 2023.
Builders in the nine-county Indianapolis area filed 389 single-family building permits in January, down from 662 in the same month of 2022—a decline of 41%, according to the latest statistics from the Builders Association of Greater Indianapolis. January's year-over-year percentage decline wasn't quite as large as the one in December, when permit filings fell 54%.
Filings have fallen on a year-over-year basis for the past 13 months and in 16 of the past 18 months.
Steve Lains, CEO of BAGI, acknowledged the slumping numbers but found optimism in the latest National Association of Home Builders housing market index, which rose to a five-month high in February and indicated improved confidence by builders for the second straight month.
"This is the second month we have seen a rise in builder confidence across the country," Lains said in writtten remarks. "Current builder sentiment is a positive sign and, coupled with stabilizing mortgage rates, signals a strong housing market moving forward."
County numbers
– Marion County saw a 17% drop in permit filings in January on a year-over-year basis, with filings falling from 81 to 67.
– Boone County was the only county to see rising numbers, with permits jumping from 62 to 84.
– Hamilton County, typically the busiest area county for home construction, saw filings sink 51% in January, from 202 to 98.
– Hendricks County's numbers fell 55%, to 40.
– Hancock County saw a 71% drop in January filings, to 21.
– Johnson County experienced a 63% decrease in filings, to 18.
– Madison County filings were down 38%, to 37.
– Morgan County filings sank 38%, to 13.
– Shelby County filings dropped from six to five.
Please enable JavaScript to view this content.