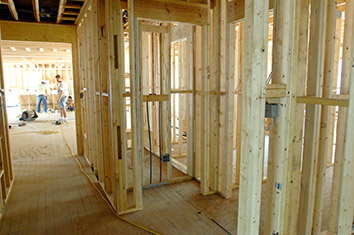 Demand for new houses in central Indiana continued to lag last year's pace in March, but longtime housing hotbed Hamilton County broke out of its recent slump.
Builders in the nine-county Indianapolis area filed 671 single-family building permits in March, down from 952 in the same month of 2022—a decline of 30%, according to the latest statistics from the Builders Association of Greater Indianapolis.
March's year-over-year percentage decline was an improvement over the 39 percent drop seen in February.
Filings have fallen on a year-over-year basis for the past 15 months and in 18 of the past 20 months.
Through the first quarter, area builders made 1,502 permit filings, down 35% from the first quarter of 2022.
One positive sign was in Hamilton County—typically the busiest area county for home construction—which saw 305 filings in March, a 10% improvement over the same month a year ago. That's the first year-over-year improvement for the county since July 2021.
Steve Lains, CEO of BAGI, said even though area permit filings are down significantly compared with a year ago, they are competitive with pre-pandemic numbers seen in 2019.
"March continues the trend of a slow return to permit numbers that reflect the pre-pandemic market conditions of strong consumer demand and low inventory of both completed homes and lots," Lains said in written remarks. "We are encouraged to see the market gradually returning to levels that can be better sustained with the current labor and supply conditions, indicating a positive trajectory for the industry."
County numbers
Outside of Hamilton County, filings were down throughout the area.
– Marion County saw an 8% drop in permit filings in March on a year-over-year basis, with filings falling from 125 to 115.
– Boone County filings fell 4%, from 90 to 86.
– Hendricks County's numbers fell 40%, to 72.
– Hancock County saw a 61% drop in filings, to 47.
– Johnson County experienced a 74% decrease in filings, to 20.
– Madison County filings were down 95%, to 6.
– Morgan County filings sank 30%, to 19.
– Shelby County filings dipped from two to one.
Please enable JavaScript to view this content.