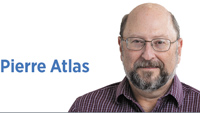 The course of Russia's invasion of Ukraine is rapidly shifting. Putin is beginning to deploy the full weight of his military without restraint, creating a humanitarian crisis of hundreds of thousands of Ukrainian refugees.
As of this writing, it is unclear how long the highly motivated Ukrainian forces will be able to hold off the larger, better-armed and ruthless Russian army. By the time you read this, the situation on the ground will have evolved. But I can make some observations that are not time-sensitive:
◗ Putin is not just waging an unprovoked war against a democratic Ukraine, he is waging war against the very idea of democracy. He cannot tolerate a former Soviet republic existing as a vibrant democratic alternative to his two decades of brutal and corrupt authoritarianism. He will do whatever he can to destroy that democracy and subjugate the Ukrainian people, even raising the specter of nuclear war.
◗ The democratic world—led by the United States and President Biden—has risen to the challenge in remarkable and surprising ways. The world has come together to isolate Russia as a global pariah with biting and historically unprecedented sanctions. As Sen. John McCain said in 2015, "Russia is a gas station masquerading as a country. … It's a nation that's really only dependent upon oil and gas for their economy, and so economic sanctions are important."
◗ Within just a few days of the invasion, Russia became more globally isolated than it had ever been in its history. The Soviet Union had the communist bloc and much of the Third World on its side during the Cold War. Today, Russia stands increasingly alone, its currency virtually worthless, its access to the global economy and even Swiss bank accounts shut off. Such is the "glory" Putin has brought to Russia.
◗ One of Putin's goals for the past 20 years has been to divide and weaken NATO. But today, the North Atlantic alliance is more united than ever, with European members upping their defense spending and dispatching weapons to the Ukrainian resistance.
◗ The Ukrainians have a fearless leader in President Zelensky. He didn't blink when President Trump tried to intimidate and extort him by threatening to withhold vital defensive weaponry in 2019 (leading to Trump's first impeachment), and he hasn't been cowed by Russia's invasion of Ukraine—even knowing that he tops Putin's kill list. The 44-year-old political novice and former comedian is a defiant wartime leader.
◗ The opening days of the war gave the world a glimpse into the plucky spirit of the Ukrainian people, with now iconic phrases like, "Russian warship, go f**k yourself" and "The fight is here—I need ammunition, not a ride." They inspire admiration and remind the world of the resistance movements in Nazi-occupied Europe.
◗ Some elected Republicans in the House and Senate, Fox News pundits led by Tucker Carlson, and the former president himself have been apologists and even cheerleaders for Russia's bloodthirsty dictator. As the world repels in horror at Putin's atrocities in Ukraine, these folks are now shamelessly and clumsily trying to reinvent themselves.
◗ The Russian people are rising up in numbers never seen in previous anti-Putin protests. Unlike the United States, Russia does not have a volunteer military. The young Russian soldiers dying in Ukraine are conscripts, and many don't even know why they are fighting. How long will Russian parents accept their sons dying in Putin's war?
Putin might have bitten off more than he can chew in Ukraine. The democratic world must do all it can to ensure that he chokes on it.•
__________
Atlas, a political scientist, is a senior lecturer at the Paul H. O'Neill School of Public and Environmental Affairs at IUPUI. Send comments to ibjedit@ibj.com.

Click here for more Forefront columns.
Please enable JavaScript to view this content.