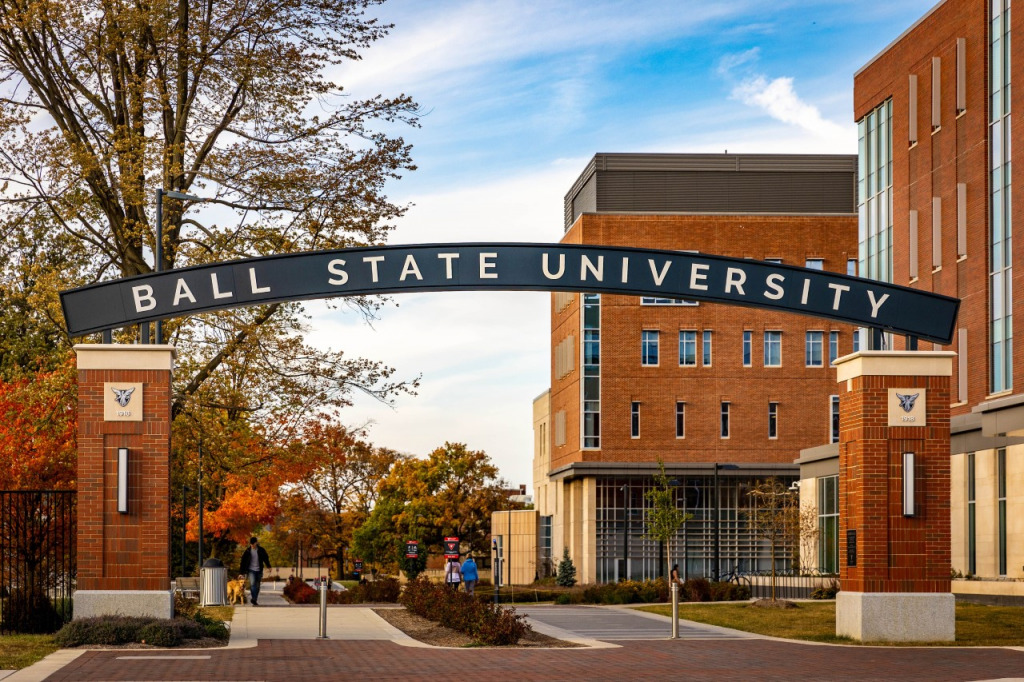 Ball State University has received two gifts totaling $7.5 million that the school says will be put toward development and construction of a performing arts center proposed for The Village, a business and culture district adjacent to campus.
Ball State received a $5 million from Marianne Glick and her husband, Mike Woods, and a $2.5 million gift from June Scheumann.
In March, the BSU Board of Trustees voted to support of a multi-million-dollar renovation and revitalization plan for the declining neighborhood, which included a performing arts center.
Glick and Scheumann are longtime backers of Ball State.
Glick, who is chair of the board of directors for the Eugene and Marilyn Glick Family Foundation, served on Ball State's board of trustees from 2006-2016. She has previously supported scholarship, diversity and leadership programming at the university.
Scheumann and her late husband, 1971 BSU graduate John Scheumann, helped fund the renovation of the John B. and June M. Scheumann Stadium with a $4 million gift. The Scheumann family made the lead $7 million gift in 2019 to support Scheumann Family Indoor Practice Facility.
"I am grateful to Marianne Glick and Mike Woods and to June Scheumann for their continued support of our university," Ball State President Geoffrey Mearns in written remarks. "Their contributions help financially support the tangible aspects of our institutional projects, but their investments also broadly support the ongoing work by everyone at Ball State to fulfill our university's strategic plan."
Plans call for construction of the performing arts center at the corner of McKinley and University avenues, which the university said will attract people to The Village. Ball States expects the center to host more than 160 performances and draw more than 35,000 attendees to The Village.
"These substantial gifts provide vital support to a revitalization plan we approved in March," said Board Chair Renae Conley.
In recognition of their gifts, the board of trustees approved the naming of the Marianne Glick and Mike Woods Lobby and the Scheumann Studio Theatre, which will both be located inside the facility.
In addition to the performing arts venue, the revitalization plan includes a $100 million mixed-use development that will include a hotel and retail, restaurant, innovation and residential space.
Please enable JavaScript to view this content.