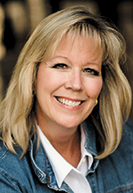 Age: 58
Hometown: Iowa
Residence: Atlanta
Family: husband, Terry; two adult children
Education: bachelor's in nursing from the University of Colorado at Colorado Springs
Political experience: none
Career: chief financial officer for Achieva Inc., farmer, former nurse
Why she's running: With my background in nursing and agriculture, I wanted to serve and give back to people who made our family dream possible.
Top priority: health care
What she's streaming: "Heartland" on Netflix
Q&A
What do you think needs to be done to improve access to and the affordability of health care?
Obamacare is not working. We need to improve affordability, accessibility, transparency and opportunity in these areas. I know U.S. Sen. Mike Braun is working a lot in this area, and I'm looking forward to working with him on the issue.
What should be done to address the massive amount of student debt in this country and make college more affordable?
We need to make sure that young people know that there are many opportunities out there. College is not for everyone. Trades can provide great opportunities for people. We can promote and develop more work-based education programs in trades so when kids graduate from high school, they can come out with skills they can use right away.
What is your position on trade and tariffs?
I think President Trump used tariffs to help even the playing field for trade. I think we need to continue to pass trade deals like the [United States-Mexico-Canada Agreement] and work on more programs that ensure opportunities to protect farmers and manufacturers.
What should be done to address climate change?
I think we need to make sure that we're using resources properly and base decisions on climate change on sound science and credible experts, like meteorologists and scientists that study climate and weather, as opposed to emotion.
Henderson has love for animals, especially horses
As a kid, Beth Henderson loved horses, so maybe it's appropriate that the horses she owns now with her husband—and the life on a farm they share—have become the best-known parts of her campaign for Congress.
Both have been featured prominently in campaign ads, and the horses have even been at campaign events for voters to meet.
Henderson grew up in what she describes as "the heart of Iowa and the heart of agriculture," but she didn't live on a farm. She did go to horse camp, though, and had a horse as a pet as a kid.
But it wasn't until just before she and her husband, Terry, moved to their 118-acre farm in Atlanta, Indiana, in 2007 that she owned her first Belgian Draft horse. Terry surprised her with one as a Christmas gift.
She didn't know anything about the breed, so she did research and took a course to learn how to drive horses. She fell in love.
"They are truly gentle giants," Henderson said. "It's been a wonderful hobby I've enjoyed over the years."
Now, she has four Belgian horses, three miniature horses and a 21-year-old pony the couple bought for their daughter when she was younger.
"You learn a lot from having animals," Henderson said.
Before moving to Atlanta, Henderson and her family lived in Zionsville and Cicero, which is where she and Terry first settled when they moved to Indiana from Iowa in 1990 after Terry's job with Dow AgroSciences transferred him here.
Henderson had followed in her mom's footsteps and became a nurse, and her first job in Indiana was with Riverview Hospital. She later worked for a Louisville-based medical case management company, handling Worker's Compensation cases and traveling throughout the state.
But Henderson had two young kids at home, so in 1996, she decided to start her own case management company called The Rehab Connection to better control her schedule.
Now, she helps run an ag-tech training business, Achieva Inc., with her husband. And they farm corn and soybeans.
With her son and daughter grown and out of the house, Henderson said now seemed like the right time to run for political office. She said her background as a small-business owner and her knowledge about the health care industry set her apart from the other candidates.
"I'm at a point in my life where I still want to serve and care for others," Henderson said.•
Please enable JavaScript to view this content.