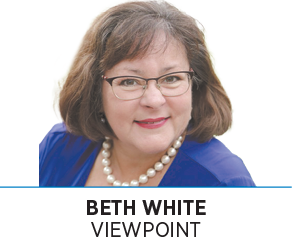 On Aug. 1, Indiana's near-total abortion ban takes effect, making Indiana one of 24 states that, to date, has severely restricted access to reproductive care.
While we don't yet know the impact of this new law, at the Indiana Coalition to End Sexual Assault and Human Trafficking, we do know that victims of rape and incest will face an uncertain future as they navigate the narrow 10-week window that is allowed for them to seek an abortion following an assault.
Consider these statistics: One in three Hoosier women experiences sexual assault in her lifetime. Indiana high school girls have reported a high rate of sexual assaults, and at one time, Indiana ranked second in the nation for girls who are raped in high school. Nationally, one in seven women who are raped become pregnant.
During last summer's hurried special session of the Indiana General Assembly, the Indiana Coalition to End Sexual Assault and Human Trafficking and our partners went to the Statehouse and fought for victims of rape and incest. We believe this law will compound the trauma of sexual violence for vulnerable victims. But we will continue to do the important work of supporting victims by preparing our rape crisis centers, local providers, and stakeholders for what is to come.
In September 2022, before a state court judge issued an injunction, our team worked with Dr. Caroline Rouse, assistant professor of obstetrics and gynecology at the Indiana University School of Medicine, to educate service providers. We held a series of regional meetings in Muncie, Indianapolis, Bloomfield and Rensselaer and currently are providing and updating resources to help providers meet the needs of pregnant rape and incest victims.
We will continue these efforts as long as victims need information, support and care.
What can you do to help? Support your local rape crisis center. A rape crisis center is a community-based, not-for-profit agency that provides advocacy and support services to survivors of sexual violence. A rape crisis center may be co-located with a domestic violence shelter or another social service organization.
Fifteen rape crisis centers currently operate in Indiana, with many serving multiple counties. The centers are staffed by sexual assault victim advocates, who complete training with the Indiana Coalition to End Sexual Assault and Human Trafficking. They are joined by service providers across the state who approach sexual assault cases through a victim-centered lens.
Empowerment, choice and trauma-informed care that is centered on the victim is essential for healing following rape or incest. The ability to make confidential health care decisions, which includes abortion, is an important step in regaining bodily autonomy.
We know the future is uncertain in the days and months ahead, but we are up to the challenge. We owe it to victims.•
__________
White is president and CEO of the Indiana Coalition to End Sexual Assault and Human Trafficking.
Please enable JavaScript to view this content.