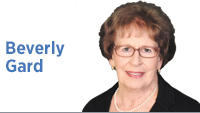 As we approach the one-year anniversary of the Indiana Dunes National Lakeshore's becoming the Indiana Dunes National Park, I reflect upon this treasured state resource and the importance of it as a rare ecological treasure—as well as an important source of drinking water.
All Hoosiers have a right to expect that their drinking water from a community water supply is safe. For many community water utilities, the source of that drinking water is surface waters: i.e., lakes, rivers and reservoirs. Recent spills, permit exceedances and illegal discharges into Lake Michigan and various tributaries that flow into the lake have resulted in increased scrutiny into rules and other methods meant to protect our valuable water resources.
In 2016, the Indiana General Assembly passed legislation to address the issue of preparedness for toxic discharges in Indiana. As a result of that legislation, I chaired a working group in the summer of 2016 to study rules and statutes governing above-ground storage tanks. The study was extensive, with a representative group of stakeholders participating. The working group looked at current requirements to protect Indiana's drinking water supply from contamination of surface water intakes via the use of several mechanisms, including gathering information on potential threats to the drinking water supply and requiring community water systems to assess such threats and develop emergency plans.
Ultimately, the working group determined that one of the most beneficial actions Indiana could take would be to update existing regulations related to spill reporting and secondary containment for above-ground storage tanks.
One of the major findings was that there is no clearinghouse for information gathered by regulators pertaining to potential drinking water threats. Among the group's recommendations was that the Legislature study the efficacy of creating a central repository for such information.
Now, almost four years later, no such study has been done by the Legislature, and IDEM's attempt to update the spill-reporting rules is awaiting approval to proceed by the Office of Management and Budget.
Currently pending before the Indiana Senate is HB 1337, which provides for the Environmental Rules Board to amend the spill rules to provide for notification to a water utility and water treatment plants of a spill or release of any substance to a water that might cause a threat to a water utility or water treatment plant. Even if this legislation becomes law, it will require rulemaking—and approval for the rulemaking must be given by the OMB.
At the federal level, a recent amendment to the Emergency Planning and Community Right-to-Know Act requires the Indiana Emergency Response Commission to promptly notify IDEM of spills reported by a facility. IDEM must then promptly provide all the information to community water systems that are affected by the release.
While rules currently exist that provide for prompt reporting of toxic releases, no amount of regulation can prevent irresponsibility or carelessness. Hefty fines and penalties can be levied for the releases and failure to report them promptly. Prevention and prompt reporting when an incident does occur should be the goal of everyone who depends upon and values Indiana's water resources.
Surface water protection is just one piece of the regulatory puzzle that protects Indiana's drinking water supplies. Groundwater, along with individual wells throughout the state, is the water source for many community drinking water supplies.
The Environmental Rules Board and IDEM, working in collaboration, are well equipped to write and adopt amendments to Indiana's spill rules and will continue to work to protect Indiana's precious water resources.•
__________
Gard is a former Indiana state senator and chairs the Environmental Rules Board and the Indiana VW Mitigation Trust Fund Committee. Send comments to ibjedit@ibj.com.

Click here for more Forefront columns.
Please enable JavaScript to view this content.