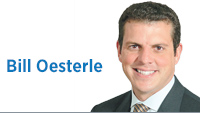 I do my best to watch state-level political developments in Indiana pretty closely. So I was heartened to see the way leaders of both parties put their differences aside in response to the COVID-19 public health crisis to delay the primary election to June 2 and make absentee voting available to everyone.
A tip of the hat goes to Gov. Eric Holcomb, Secretary of State Connie Lawson, GOP State Chair Kyle Hupfer, Democratic State Chair John Zody and the leaders of the Indiana Election Commission—Republican Paul Okeson and Democrat Anthony Long. It was a healthy response to an unhealthy situation.
In spite of the dizzying drop in the stock market, I have decided to make a meaningful investment in the Indiana Citizen Education Foundation, which operates online at indianacitizen.org.
I invested because I am worried about the civic health of the Hoosier state: According to the 2019 Indiana Civic Health Index, Indiana is stuck in the bottom 10 of states for voter turnout. That's embarrassing.
ICEF has set the goal of getting us into the top 10, a 20% increase in turnout over 2016, the last presidential election year. That's a lofty goal, which will mean 600,000 to 700,000 more voters this year.
I hear that some members of the "political class"—Republicans and Democrats alike—don't like the idea of increasing registration and turnout. Why? Well, if your candidates win consistently, you've already figured out who your voters are and how to get them to the polls. It's a cynical, but effective, way of looking at winning the next election. It is also shameful.
It could also be exactly the wrong way of thinking about Election Day 2020.I suspect every assumption about who the reliable voters are in 2020 could be wrong. Already, every assumption a reliable voter had about the upcoming primary is changed, including the possibility of almost no in-person voting, a true vote-by-mail election.
That possibility will be debated at the Election Commission's April 22 meeting. I believe we are already headed to a record low turnout in the primary, which could be a precursor to a record low turnout in November.
It's high time for our elected officials and candidates to stand up to the political operatives and publicly embrace the goal of increasing registration and turnout—with the goal of getting us out of the bottom 10, certainly, but also to head off an actual downturn in voting this year.
Go on record by joining the Indiana Civic Health Alliance, at indianacitizen.org. Click on the Join the Indiana Civic Health Alliance link at the bottom of the home page. The group has attracted an all-star bipartisan board and it deserves our support.
Wouldn't it be something if our public health crisis caused a bipartisan response to our civic health crisis?•

Click here for more Forefront columns.
Please enable JavaScript to view this content.