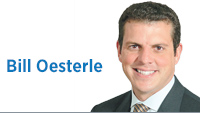 On a morning where the top two news stories are about U.S. GDP having its worst quarterly decline since 2008 and the New York City mayor using police to break up a rabbi's funeral procession, I have been thinking about political courage.
Around the country, and indeed around the world, we are witnessing some remarkable displays of it. I think we should acknowledge them, be grateful that we have some elected officials willing to take risks and hope fervently that they work.
Georgia Gov. Brian Kemp is being eviscerated by the press. He has drawn the ire of fellow governors, the mayor of Atlanta and even President Trump. All this, for simply letting Georgia's mandatory stay-at-home order expire. South Dakota Gov. Kristi Noem is facing a similar flaying for deciding that a civil-liberty-crushing, economically devastating stay-at-home order might be a bad idea in the first place.
Govs. Kemp and Noem get particularly high marks for courage because they are inherently exposed to the vexing "not listening to the experts" critique.
Interestingly, in Sweden, the courageous public official is the expert. Anders Tegnell is a leading epidemiologist at Sweden's Public Health Agency. He is the architect of Sweden's voluntary "trust-based" isolation measures.
Tegnell, like all good epidemiologists, is well trained in the grim implications of pandemic. What makes him seemingly unique is his willingness to also contemplate the similarly grim implications of sweeping government quarantine. For this thoughtful approach, he has been roundly denounced by other scientists and the global press.
He is an interesting guy. As far as I can tell, Tegnell couldn't care less about the criticism. All he cares about is the practical welfare of the Swedish people.
Contrast these individuals with the leaders who are succumbing to the politically opportunistic arguments for extreme public sacrifice in the name of ill-defined "public health." One recent argument used to criticize Govs. Kemp and Noem is that COVID-19 could recur, reinfecting patients who have already had the disease. Nervous politicians use this argument to call for longer lockdowns. Tegnell knows the virus could recur, but he argues that, if it does, then vaccination won't work. After all, that would render long-term isolation pointless.
He has made other daring arguments about unnecessary border closings and sufficient hospital capacity. This has made him a frequent target of other European governments. They erroneously point to Sweden's overall infection rate as evidence of his recklessness. It has also made him a hero of the people in Sweden. They respect his willingness to speak hard truth. A grass-roots movement of Anders Tegnell tattoos is spreading among the Swedes. There can be payoffs for political courage.
We should all be grateful that these leaders are willing to take calculated risks with COVID-19. They are quite aware of the danger to their reputations, their careers and, most important, their constituents. But we all benefit from their success or failure.
Without these actions, we would remain beholden to hypothetical dire predictions and "experts" who are also amateurs. We would continue to receive real-time COVID death counts while we wait months for our measures of economic hardship.
Without these pioneers, we would be trapped into taking actions with known short-term benefits, but unknown long-term outcomes. This timing mismatch also means these leaders will endure three very long months before their gambles pay off or don't.
I have no idea if Govs. Kemp and Noem will succeed. They could very well be wrong, and if they are, people will needlessly die. I will say that I am rooting for them, though. If their bet pays off, it will save us all incalculable hardship.•

Click here for more Forefront columns.
Please enable JavaScript to view this content.