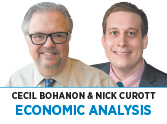 It is a safe bet that the pandemic will produce a decline in gross domestic product and unemployment rates at a level not seen since the Great Depression. Wall Street firm Goldman-Sachs estimates GDP will decline on an annualized basis by 34% this quarter, and the unemployment rate will rise to 15%. The St. Louis Fed speculated the unemployment rate could rise to 30%.
Amazing how a tiny little virus from China caused demand for sit-down meals at restaurants and haircuts at barbershops to drop to zero overnight. Of course, liquor and grocery sales and delivery services have boomed. But unemployed barbers and waiters don't automatically transfer into shelf stockers and delivery people. Economists have known for some time that redirecting labor from one occupation to another is not as simple as all that.
The news stories from the milk market show that even redirecting non-labor resources from one use to another is not seamless. Isn't it strange to see some grocery stores limiting the amount of milk customers may buy while dairy farmers are dumping raw milk on their fields? A little investigation reveals dairy farms are going full steam. Milk production in the spring naturally rises as calves are born—it's called the spring flush.
So there is plenty of milk. But milk is highly perishable and has to be processed before it can be put to any use. The facility that uses milk to make industrial quantities of fresh cheese for the now-moribund restaurant market can't be instantaneously refitted to make half-gallon cartons of milk for grocery shoppers. However, the dairy plants that churn out half-gallon cartons of milk are already at full capacity and full capacity has likely declined as milk processors rightfully adopt new protocols to ensure worker and product safety.
Grocery stores don't want to alienate customers in times of panic buying. Raising the price of milk, an economists' favorite solution to the problem, is something most retailers have not practiced. Customers apparently get much more upset by what they perceive as "price gouging" than by having empty shelves. But an even better solution for retailers is to limit milk sales to ensure milk is there.
What's amazing is that the food supply chain is holding up as well as it is. Even in the time of coronavirus, we suspect most American consumers have more food choices than in their grandparents' normal times. And that is something to smile about.•
__________
Bohanon and Curott are professors of economics at Ball State University. Send comments to ibjedit@ibj.com.
Please enable JavaScript to view this content.