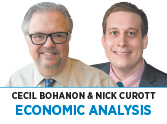 At the time of this writing, it looks like Mayor Pete won the delegate count in Iowa, although it's not exactly certain. Blame the Iowa delay on the newfangled phone app that was supposed to expedite the count. Alas, it didn't work. Did no one in Iowa recall the old saw: If it ain't broke, don't fix it? Or blame it on the byzantine nature of Iowa's two rounds of voting and subsequent rounding rules. Or the razor-thin margins between the two leading candidates. Ever notice nobody complains about voting rules unless the election is really close? In any case, the process went awry.
The saga of the Iowa caucus has gone beyond frustrating to surreal. Partisans and pundits have identified obvious calculation errors in precinct reports. But the legal eagles of the Iowa Democratic Party were quoted in The New York Times: "The incorrect math on the Caucus Math Worksheets must not be changed to ensure the integrity of the process." They went on to say that correcting the math would introduce "personal opinion" into the official record of results. Incorrect math is necessary to ensure the integrity of a process? 2+2=4 is a personal opinion? It just gets curiouser and curiouser.
It's all too bad, because the hullabaloo will probably kill off the Iowa caucus. Yet there is much to like about a caucus system—especially if one sees democracy as something more than a frantic media-driven circus. One of our favorite late and great 20th century economists, the one-time University of Iowa professor Frank Knight, thought of democracy as "government by discussion."
He compared a political leader who thinks others should "believe in him … and those who disagree are irrational, incompetent, indifferent or selfish and wicked" to a political leader who sees "compromise as the first principle of discussion and strives to preserve an atmosphere in which the best possible compromise will be achieved." In Knight's opinion, the former is a demagogue—the latter is essential to the preservation of freedom.
A well-structured caucus encourages at least some degree of civility in the political process. Neighbors come face-to-face to talk, cajole and persuade one another, often over coffee or tea. Restraints on speech are self-imposed and reflect community standards, not some standard imposed by an anonymous algorithm generated by a far-off media company. Perhaps this view of the political process is too romantic, but it might also be what is required to preserve our republic. Face-to-face, not on Facebook.•
_______
Bohanon and Curott are professors of economics at Ball State University. Send comments to ibjedit@ibj.com.
Please enable JavaScript to view this content.