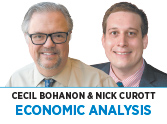 What does America think about its billionaires? Many think of them as the pre-haunted Ebenezer Scrooge of Charles Dickens' "A Christmas Carol." Scrooge was mean and stingy to everyone: his nephew, Fred; his clerk, Bob Cratchit; and those good-hearted Londoners who unsuccessfully solicited his donation for the Christmas fund.
On the other hand, many Americans want billionaires to be like Santa Claus: that jolly old man who gives good little girls and boys whatever their hearts desire.
Of course, our billionaires are neither. They generally have a lot more style than Scrooge. They also typically commit large portions of their wealth to noble causes. However, they are not really like Santa Claus: Their generosity reflects their own vision of the good, not our desires; nor are billionaires omniscient like Saint Nick.
To economists, this all muddles the point. The primary way billionaires contribute to our well-being is not through their charity or beneficence. Rather, it is by the innovations they typically introduce via the market process. Adam Smith noted as much in his "Theory of Moral Sentiments" in 1759. Aware of the major increase in agricultural productivity of his time, Smith asserted that, while the "proud and unfeeling landowners" adopt such innovations only for "the gratification of their own vain and insatiable desires, they divide with the poor the produce of all their improvements." The landlords can't possibly consume all the additional foodstuffs produced in their fields but trade the growing excess to acquire the "baubles and trinkets" of the rich. The poor end up better fed.
More recently, Nobel Prize-winning economist William Nordhaus estimated in 2004 "only a miniscule fraction of the social returns from technological advances over the 1948-2001 period was captured by producers. … Most of the benefits of technological change are passed on to consumers … ." He estimated the producer's "miniscule" fraction to be about 2%.
Plausible? Think of innovator Bill Gates, estimated worth around $100 billion. Nordhaus' number suggests consumers gained something on the order of $4.9 trillion from Gates' efforts. Divide that among 330 million Americans and it comes to a $15,000 lifetime per capita gain. We'd assert that Microsoft products have made us better off by that amount at least. Gates' commitment to give most of his fortune away is small potatoes compared to the benefits conferred through market exchange. And the benefits don't require a strangely dressed old man knowing if we've been naughty or nice!•
__________
Bohanon and Curott are professors of economics at Ball State University. Send comments to ibjedit@ibj.com.
Please enable JavaScript to view this content.