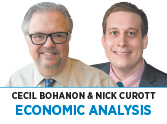 The story goes that a Chinese painter was painting a tiger, but a customer wanted a painting of a horse. So, the painter added the body of a horse to the tiger—making it neither a tiger nor a horse. This gives us the Chinese phrase "mamahuhu"—literally horse-horse, tiger-tiger, but really meaning not one or the other, neither good nor bad. And that's Bohanon and Curott's economic forecast for 2020.
The economic outlook for the United States this year isn't pretty. But at least the situation looks better here than in most other major nations. Our real GDP growth in 2020 is projected to be a measly 1.5%. This is owing mainly to weak economies across the globe and to tariffs, both of which are taking a toll on U.S. manufacturing activity. Industrial production, private business investment and domestic auto sales are all declining. But on the bright side, the domestic service sector is continuing its strong expansion. Because the manufacturing sector is not as significant a part of the economy as it was in the past, the manufacturing slowdown is unlikely to cause an outright recession.
The outlook is better on the jobs front. Over the last year, the economy has added an average of 184,000 jobs each month, well above the roughly 100,000 job gains needed to accommodate the growing working-age population. Expect this trend to continue next year, and for the unemployment rate to continue to fall. This is remarkable considering the unemployment rate of 3.5% is already the lowest in 50 years.
Strong labor markets have resulted in rising wages for workers. Average hourly earnings of nonsupervisory workers increased 3.7% over the last year and are trending up. On a national level, this should continue in 2020. Unfortunately, in Indiana and other Midwestern states, we expect job losses in manufacturing to cause an overall rise in the unemployment rate through the first half of 2020.
Due to the slowing economy, the Federal Reserve is expected to cut interest rates twice next year. Lower borrowing costs should make it easier for most Americans to finance major purchases. Thirty-year mortgage rates should keep falling and could even get down close to 3%. Cheap financing should keep the housing sector expanding next year.
So, our 2020 economic forecast: mamhuhu: not great, but not a disaster.•
__________
Bohanon and Curott are professors of economics at Ball State University. Send comments to ibjedit@ibj.com.
Please enable JavaScript to view this content.