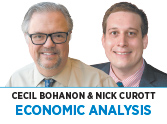 The Federal Reserve appears to be losing its way. Fed Chairman Jerome Powell indicated during recent testimony before Congress that more accommodative monetary policy is likely needed to counteract global risks to the U.S. economy. Investors now predict a 100% chance that the Federal Reserve will lower its interest rate target at its next meeting on July 31. The impending interest rate cut is a reversal of the Fed's recent policy stance. What troubles us is that this reversal is not warranted given current data on the state of the economy. So why is the Fed cutting rates? We hope dubious motives aren't at play.
The Federal Reserve's dual mandate from Congress is to manage the money supply and interest rates to foster maximum sustainable employment and stable prices. The Fed should lower interest rates to counteract rising unemployment and raise interest rates to counteract rising inflation. Currently the unemployment rate is 3.7% and hovering around its lowest rate since 1970. The inflation rate is 1.5%, slightly below the Fed's announced target of 2%. In other words, the economy is in a healthy spot from a business cycle perspective and there is no pressing reason to cut interest rates.
The global risks cited by Powell—namely the deterioration of international trade policies and soft global growth—haven't significantly worsened recently. More to the point, they have not caused any significant rise in unemployment nor fall in inflation. Powell's pointing to global risk sounds to us like a convenient pretext as much as anything.
A small cut in interest rates won't noticeably improve the economy and isn't needed for that purpose anyway. But it will make many financial assets more attractive. The equities market rallied with news of the Fed's policy easing, and the treasury bond yield curve steepened. The Fed is supposed to base policy decisions on what is best for all Americans and the overall economy—not what is best for investors. But recent developments raise concern that the Fed is allowing itself to be bullied by financial markets into lowering rates.
Even more concerning, the Fed's policy reversal raises questions about its independence from political pressures. President Trump and his pals have vociferously criticized the Fed for raising interest rates and have been clamoring for lower rates. The Fed's about-face makes it appear like it is caving in to these demands. We hope this isn't the case.•
__________
Bohanon and Curott are professors of economics at Ball State University. Send comments to ibjedit@ibj.com.
Please enable JavaScript to view this content.