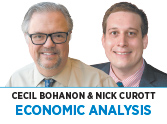 The Timbs v. Indiana asset-forfeiture case is back before the Indiana Supreme Court. In 2013, Tyson Timbs sold drugs to an undercover cop. Law enforcement seized Timbs' brand new Land Rover.
In 2017, the Indiana Supreme Court upheld this seizure.
In 2019, the U.S. Supreme Court overturned the decision, ruling that the Eighth Amendment's prohibition against excessive fines and punishments applies to state governments. This sent the case back to the lower courts to adjudicate in light of this new guidance.
Now, the state of Indiana is arguing yet again that it has the right to take Timbs' car, and the assets of anyone else in similar circumstances. The state's tenacity in pursuing Timbs' car is intriguing and raises questions about the policy of civil-asset forfeiture.
Economics offers a lens for examining legal issues distinct from other disciplines.
Constitutional lawyers debate whether seizing Timbs' Land Rover violates the Eighth Amendment's excessive fines clause.
Legal philosophers deliberate as to whether doing so is just.
Economists observe that letting law enforcement keep seized assets gives them a motive to spend more time and effort pursuing asset forfeiture and less time fighting crime.
But wait. Isn't fighting crime the purpose of law enforcement?
Viewed from this perspective, there are three straightforward ways in which Indiana's civil-asset forfeiture laws should be reformed.
First, the agency that seizes assets from citizens shouldn't directly benefit from the proceeds of seized assets.
That's why Indiana has a constitutional provision that requires "all forfeiture" to be paid into the Common School Fund. But in Indiana, law enforcement is permitted to keep the proceeds from seized assets in order to defray incurred expenses. This loophole should be eliminated.
Second, asset-forfeiture cases should be subject to a stricter standard of proof. In Indiana, prosecutors only need to prove by the preponderance of the evidence that property is connected to a crime.
Third, an issue that uniquely plagues Indiana is that many counties allow private lawyers to profit from civil-asset forfeiture on a contingency-fee basis. Indiana should follow the wisdom of other states in preventing this practice, as it gives prosecuting officials an incentive to profit from forfeited property.
Lawyers, bureaucrats, police and regular citizens all respond to incentives. As Adam Smith observed, the key is setting up rules that align incentives with what the polity deems the actors in question are supposed to accomplish.•
__________
Bohanon and Curott are professors of economics at Ball State University. Send comments to ibjedit@ibj.com.
Please enable JavaScript to view this content.