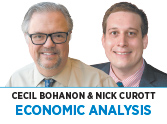 The COVID crisis is a year old. We are all grateful to the world's medical science infrastructure, led by oft-maligned Big Pharma firms, for providing a number of safe and effective vaccines. We aren't out of the woods yet, but we have averted the worst-case scenarios feared this time last year.
As usual, many try to use this tragedy to score political-ideological points. As our readers might expect, the one that irks us the most is the claim that the COVID crisis shows how free markets are inept at solving social problems. Over the last year, no one can accuse Bohanon and Curott of being free-market ideologues on COVID. Yes, all levels of government had roles to perform. But just as it is naive to think zero-government action was the best response to the pandemic, it is also a mistake to romanticize government's role—or to ignore its abject failures.
As David Boaz at the Cato Institute has documented, both early COVID testing in Washington state and the national commercialization of COVID tests were needlessly delayed by federal bureaucracy. New York Gov. Andrew Cuomo's boneheaded directive to send COVID patients to nursing homes, coupled with his administration's attempt to doctor the numbers, is another example that casts aspersions on the grand competency and wisdom of government.
However, our strongest criticism is the strange, dogmatic and ideological prejudice against allowing the price mechanism to allocate the vaccine in any way. The price mechanism could be enormously useful in reallocating the vaccine from places where the capacity to vaccinate is lacking to places where it can be effectively used. Not only would more vaccines be administered sooner, but the slow-moving locations could garner resources to improve their capacity to vaccinate. In addition, if employers were able to bid on the vaccine for their workforce, we are pretty sure it would flow to those industries that would lead to a more robust recovery.
As an economist, one of the most interesting things to observe is that the actual vaccination allocation scheme is a near "pure" case where price has been explicitly banned as a resource allocation mechanism. This gave us an incredibly effective "teachable moment" for our students. If not price—then what? The alternatives are neither panaceas, nor efficient, nor clearly "fairer."
Excluding economic reasoning from policy discussion because it is deemed to be crass is both intellectually vacuous and socially counterproductive.•
__________
Bohanon and Curott are professors of economics at Ball State University. Send comments to ibjedit@ibj.com.
Please enable JavaScript to view this content.