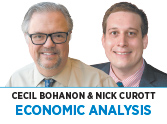 We were shocked to learn the Coca-Cola Co. planned to end the production of Tab soda by year's end. We had thought that the vile swill had disappeared in the previous millennia, relegated to the soft-drink netherworld.
Gosh, Tab is awful—loaded with sickly sweet metallic-tasting saccharine that even whiskey won't improve. Nevertheless, there are people who love it. A woman in Memphis, Tennessee, reports drinking two cans a day. She opined on news of the drink's demise that Tab was her day's "bright spot." "Is 2020 not bad enough already?" she asked.
What is really amazing is that the brand continued as long as it did. Its $22 million in annual sales in a recent year pale in comparison to the $7.7 billion in Diet Coke's annual sales. It seems it was COVID that killed Tab, as the logistics of making and distributing a small niche brand are more complicated and costly in a virus-constrained world.
Tab's rise and fall is the outcome of a market process. Let's compare it to the outcome of a political process. In the market, consumers vote with their dollars, while in an election, each consumer gets one indivisible vote. In an election, there is one winner; those in the minority are just out of luck, especially those who vote for candidates who draw small percentages of the total vote.
In a market, this isn't the case. Tab hung on for years despite the derision many felt for it, ending with less than 0.1% of the diet soda market. But it isn't like the 99% of us who hate the stuff worked to ban it.
Private markets are very good at providing divisible consumption goods. You might love Tab and I might hate it, but I don't have to consume it and its presence does not preclude other soft drinks. In addition, you buy your Tab with your money, not mine.
This isn't the case in the realm of politics. Consider the quintessential government good: waging war on a foreign adversary. Short of emigration, dissenters cannot opt out. Moreover, they are forced to pay taxes for an activity they despise.
This is one of the reasons those of us who advocate limited government reject the inexorable instinct of progressives to make any conceivable social problem a political issue. Let's hope that incoming legislators don't get any ideas about a Tab Protection Act in January.•
__________
Bohanon and Curott are professors of economics at Ball State University. Send comments to ibjedit@ibj.com.
Please enable JavaScript to view this content.