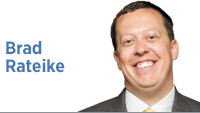 It is a great time to be optimistic in Indiana. I am not just saying that because I now have my first dose of the COVID vaccine, though I think the rapid administration of the vaccination across the state is a great place to start.
Gov. Eric Holcomb and his talented, yet humble team have done an incredible job of balancing public health and economic health. No state is immune to rough patches, but for the most part, our case numbers are in a much better place and the vaccines are being administered efficiently and effectively to every adult who wants one, soon to include children.
The Indianapolis Motor Speedway, one of our state's crown jewels, stepped up like only it can, setting up a mass vaccination site in March and another in April. By the end of this month, more than 100,000 Hoosiers will have been fully vaccinated at IMS, thanks to the generosity of Roger Penske, the innovation of his team and the dedication of hundreds of health care workers who worked together to make it happen. Well done.
As a result of this herculean effort, the NCAA saw the opportunity to move the entire Division I Men's Basketball Tournament to our state. With less than three months to pull it off, local and state officials worked with organizations like the Indiana Sports Corp. and Visit Indy to produce what many thought impossible: the near flawless execution of a safe and secure tournament.
Our success was watched by millions, leaving no doubt that Indiana knows how to "do" big events like no one else. It was a team effort, to be sure. There was no playbook for this, but there is now, and it has been authored by Hoosiers.
An army of volunteers stepped up to assist with beautification efforts before the masses arrived, picking up trash every day, sanitizing public facilities, even working around-the-clock to do more than 12 tons of laundry. Those who have been able to walk around downtown over the past month have seen signs of social and economic activity that have been absent for too long.
One of the statistics I look forward to hearing is the estimated number of people, especially lower-income individuals, who have been able to go back to work because of the economic spark we have received courtesy of the NCAA. Let us hope those jobs will continue to exist into perpetuity.
In just over six weeks, Indiana will once again be on the international stage as our friends at IMS prepare to host what might be the largest single gathering of people in one location since the beginning of the pandemic. As indicators point to the Indianapolis 500 taking place as scheduled, the pressure is on for Hoosiers to step up and be responsible. The Indy 500 means a lot to many Hoosiers, so it is exciting to count down the days in anticipation.
In no way should we prematurely fly a "Mission Accomplished" banner anywhere. We are not out of the woods yet, and "permanent" recovery, where it is possible, will take months, if not years. Some businesses and families might never recover, and for that we must be mindful.
However, as we responsibly move forward with vaccination rates soaring and COVID no longer dominating every headline and every personal conversation we have, I think we will begin to discuss other positive developments that have taken place across our state over the past year while we have been quarantining.
That is why I am convinced it is a great time to be optimistic in Indiana.•
__________
Rateike is founder and owner of BAR Communications and served as director of cabinet communications for President Donald Trump. Send comments to ibjedit@ibj.com.

Click here for more Forefront columns.
Please enable JavaScript to view this content.