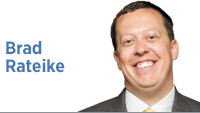 My 40th birthday is at the end of this month. On the list of milestone birthdays, it feels substantially more significant than when I turned 30, but that is probably because my level of maturity (at times) might have resembled that of someone in their early 20s. Those who know me best might say that, a decade later, I am still not immune to fits of young adulthood (I know I am not the only one), but overall, turning 40 does feel momentous, and in no way is that depressing.
One potential downside of turning 40 is that it is obvious everyone below retirement age no longer views you as "young." The minute you leave your 30s, you are reclassified. No longer do I qualify as a "young" professional or "young" Republican, etc. I will be paying full freight now. Even my friends at the Indianapolis Business Journal have an entire category of recognition for people under 40. I am not upset by this. They must start somewhere.
In many ways, "graduating" all of us who turn 40 from certain social and professional groups could be viewed as a good thing. Promoting and attracting "young talent" is good for organizations to prevent them from becoming stagnant. Everyone knows the change is coming; there is nothing malicious about it. Mature organizations view this as an opportunity for extended mentorship, a natural transition encouraging younger members to step up and assume a leadership role. If new viewpoints can have a greater chance to be heard, while the wisdom and counsel of those who have been there before is still available for use, the organizational health should improve more often than not. If nothing else, the "graduating" individual should feel a sense of pride in leaving something better than he or she found it. Likely, those who follow them will show their appreciation; at least, I hope so.
I do wonder if there are any other natural periods of personal or professional transition after you pass 40 years old? Retirement and becoming eligible for Social Security do not align like they used to, so I am not sure that counts. However, in between 40 and 65, do people become stranded in "no man's/woman's land" personally and professionally? Are we at risk of being considered too old to be young but too young to lead? Will we be evaluated for our experience (I prefer to call it "mileage") or just our years?
A quote from the playwright George Bernard Shaw is often paraphrased, "Youth is wasted on the young." He might turn out to be right, but I hope I never agree with him. As I have gotten closer to 40, I feel like I've received an implied level of professional credibility because I have almost 20 years in the workforce. My colleagues and clients seem to believe, rightly or wrongly, that I have learned a few things over the years (and mileage). I know that not all those with the years have the mileage and not all those with the mileage have the years, but it does not have to be as simple as that.
As I attempt to progress in both categories, I hope my peers and I will not forget to develop an objective eye for talent, like many of our elders have, so we can help those who aspire to positions of leadership.
Until then, here's to the next 40 years of hopefully leaving it better than we found it.•
__________
Rateike is founder and owner of BAR Communications and served as director of cabinet communications for President Donald Trump. Send comments to ibjedit@ibj.com.

Click here for more Forefront columns.
Please enable JavaScript to view this content.