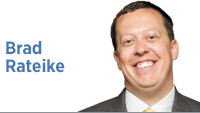 For those of you who are still willing to admit to being interested in politics after a polarizing 2022 and the political theater that was the election of the U.S. speaker of the House of Representatives earlier this month, I have a reason for optimism.
My friend and former colleague, Sarah Huckabee Sanders, was sworn in this month as the 47th governor of the state of Arkansas after winning her first race for elected office by nearly 30 points at age 40, only a few months after undergoing surgery for thyroid cancer.
A mother of three and husband to Bryan, Sarah is the youngest governor in America, the first woman to be elected governor of Arkansas and the first daughter to be elected governor of a state where her father held the same office.
I met Sarah during the 2016 presidential campaign almost a year before she became the third woman to serve as White House press secretary and the first mother to hold the position.
Sarah was one of the campaign's best surrogates on TV and in the "spin room" after debates. When she assumed the position of White House press secretary, she was as prepared as anyone could be, having been raised by two wonderful parents, and having watched her father, former Gov. Mike Huckabee, throughout his career show how to connect and communicate with people, even under difficult circumstances. Standing behind the podium in the White House Briefing Room, in any administration, is the definition of "difficult circumstances."
Being White House press secretary is the hardest job in D.C., and Sarah was the epitome of grace under fire. Any argument otherwise was put to rest in April 2018 when Sarah sat on stage at the head table of the White House Correspondents Dinner while a comedian went after her personally and professionally in front of the entire D.C. press corps—in a manner that even the "haters" would say was far below the belt, to put it mildly.
I witnessed this from the audience, discreetly covering much of my face with folded hands in an attempt to hide the winces and looks of horror that I could not help but display. Sarah had no such luxury and sat stone-faced while taking the classless insults. In my 20-plus year career, I am not sure that I have ever been quite so proud of one of my colleagues as I was of her that night.
That moment alone is not why Sarah will be an incredible governor for Arkansas. It will be the combination of all I have mentioned above and much more. She is already managing through a gubernatorial transition with it its own set of unique challenges. She is already navigating supermajorities in both chambers of the General Assembly and will have to learn how to gain support for her agenda when some legislators might have other ideas. She will have to prepare for the unexpected. But if there is anyone I know who can be quick on her feet, it is Sarah.
Obviously, I will continue to root like crazy for Gov. Eric Holcomb as he continues his sprint through the final two years of his last term. He is doing an amazing job for Indiana. Concurrently, if you are a fan of good government and good politics and are looking for a new rising star, I encourage you to pay attention to what Gov. Sarah Huckabee Sanders is going to do in Arkansas. I know you will be impressed.•
____________
Rateike is founder and owner of BAR Communications and served as director of cabinet communications for President Donald Trump. Send comments to ibjedit@ibj.com.

Click here for more Forefront columns.
Please enable JavaScript to view this content.