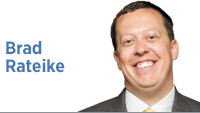 Few of us get excited about the idea of being the plus-one at our significant other's high school class reunion. We might care about their upbringing or what made him/her the person they are today, but how interesting are stories about prom dates, sectional basketball losses, busted parties, cutting econ class or the health teacher who smoked two packs a day? What might be nostalgic for those who lived it is often painful for those who did not.
A few weeks ago, I realized that perhaps I had been painting with too broad a brush (which is not the first nor last time I will learn that lesson). I attended my wife's 25th Vincennes Lincoln High School class reunion and will forever view differently what a reunion can be instead of focusing on all the clichés of what I have always imagined them to be.
Admittedly, my wife has stayed in touch with more high-school-era friends than I ever had while I was in high school, and the fact that they have stayed connected is an obvious advantage. But if you have never had a good experience at a class reunion, I suggest you befriend (or marry) a Vincennes Lincoln High School graduate. You can thank me later.
This year, my wife was recognized as one of two "distinguished alumni" award winners, which was a big deal because she was nominated by several of her classmates and a few other lifelong friends from Knox County. It meant a lot to her and is something I know she will cherish. It also meant that she got to ride in a classic convertible in the annual homecoming parade on Friday afternoon. Yes, they have a parade, every year. Each class celebrating a milestone reunion builds some sort of float, as do groups of "future alums" such as the boys and girls cross country team, dance squad, etc. The streets are lined with families. The entire downtown shuts down to celebrate.
My wife's friends decided that the idea of me watching the parade from the sidelines was simply unacceptable. They insisted that I crash the Class of '97 float with them. They gave me no choice and insisted no one would take issue.
They were right. I was greeted with shots of Mad Dog 20/20 and cold cans of Busch Light and given a stack of logoed koozies to toss to parade spectators (a clever marketing ploy by a custom jeweler who was one of my wife's classmates). I was, at that moment, one of them. Despite never really being a "parade guy" growing up, I realized that even a hater can have a blast when drinking beer on a straw bale on a flatbed trailer.
The following day, as I sat in a camping chair in my wife's friend's carport watching college football, I realized that, while I did not think graduating from high school and then living another 25 years was a monumental accomplishment, it was not about the milestone of receiving a diploma that mattered to the Class of '97 (or the other classes). It was about the pride they had in being from a place they cared about, the friendships they had maintained over the years, and the idea that, no matter what life might have thrown at them, they could always return home.
I have five years until the next Class of '97 reunion and parade appearance, which I might or might not try to crash, but I hope I will not have to wait that long to join my wife on her next trip home.•
__________
Rateike is founder and owner of BAR Communications and served as director of cabinet communications for President Donald Trump. Send comments to ibjedit@ibj.com.

Click here for more Forefront columns.
Please enable JavaScript to view this content.