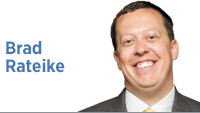 My friend Adam owns a bar downtown. Adam had worked at this bar for several years before he and colleagues bought out the owner, venturing into the wide world of entrepreneurship.
Shortly after the sale was complete, I ran into Adam and asked him what it was like owning his own business. He responded without hesitation, "I don't own the business; it owns me." I am certain he was not trying to sound witty, and he was not complaining—although I would not have held it against him if he had. He just said it matter-of-factly. The stress that comes with the buck stopping at you is very real. So, if and when Adam has a chance to relax, I am sure he takes full advantage.
The holidays often bring a new layer of complexity for those of us who work for ourselves, a phrase I use loosely given the number of clients, patrons, etc., who believe business owners can and should always be on call. I am not complaining, mind you. That is often the nature of the transactional agreement.
In the hospitality industry, the holidays often mean extra shifts and longer hours. Hopefully, that additional time and effort results in additional profit. In the personal-services sector, holidays—especially big ones like Thanksgiving Day and Christmas Day—tend to offer a little reprieve for everyone. Attempts to go on vacation might not always be treated as sacred, but even the clients who call at 7 p.m. the night BEFORE Thanksgiving generally respect the actual day itself.
This might not seem like a big deal, but the idea of spending time with friends and family without having to worry about your email inbox being used for target practice is pure ecstasy. Anyone in any industry can appreciate that.
I recently contemplated whether it could be possible to share the wealth a little more and build upon this mutual display of respect around major holidays. Could we create a way to celebrate the holidays in shifts?
Think about it. Instead of paying for expensive flights, battling airport traffic, or fighting over the last turkey at the grocery store all in the same week, we could spread that out over a two-week period. Instead of spouses fighting over which side of the family to see, you could have multiple options.
Please do not misunderstand me. I am not trying to ruin what we already have. I assume most people are going to dismiss this idea immediately and continue to celebrate on the day they always have, so our bosses or clients should still treat Thanksgiving as sacrosanct.
However, in addition to that, the daring among us could identify another day to celebrate a premature or delayed Thanksgiving. I am not necessarily also advocating for you to receive special relief during your newly identified date, but I would like to believe any person who tries to blow up your inbox after getting an out-of-office reply stating that you are celebrating Thanksgiving is going to tap the brakes a bit.
The actual execution of this idea is fraught with administrative and logistical challenges. But in thinking through it, I hope all of us—whether we are an employer, employee, client or vendor—consider what we can do to help our colleagues have some time to relax over the holidays, especially this year. They deserve it and so do you. Have a safe and happy holiday season!•
__________
Rateike is founder and owner of BAR Communications and served as director of cabinet communications for President Donald Trump. Send comments to ibjedit@ibj.com.

Click here for more Forefront columns.
Please enable JavaScript to view this content.