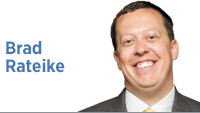 There are two types of people in this world: those who treat the first Thursday and Friday of the NCAA Division I men's basketball tournament like a state holiday and those who can learn to do so.
I was not born a basketball fan, but I became one. My parents moved our family from the Chicago suburbs to Lebanon in 1988, after being lured here on many weekend camping trips by the clever (and catchy) "Wander Indiana" tourism campaign.
Even as a second-grader, I had never picked up a basketball, but this is Indiana, so I was given no choice my first day of recess. Within months, my siblings and I started begging my parents for our own basketball hoop. Santa obliged, and on Christmas Day, the Rateike kids received the first "adjustable" goal in the neighborhood.
All candor, the only real basketball talent I ever possessed was being able to dunk on our 7-foot rim six months before everyone else. It had nothing to do with my vertical jump, and everything to do with being six to 12 inches taller than all my friends. Once the "skill" portion of the game (and puberty) caught up to us in middle school, I took my spot at the end of the bench.
For the kids who grew up going to basketball camps and practicing free throws every day, this would have been a nightmare, but I was just happy to be on the team and even happier to have the best seat in the house. All the action, none of the pressure. Kind of like Ollie in "Hoosiers," except for that one game.
By the time I got to high school, I had "retired" to the ranks of church-league basketball, finally hanging up the high tops after freshman year and taking my talents to the Quiz Bowl team in search of all the glory. Besides, the best overall basketball ability at Center Grove High School back then was on our girls team, which won the state championship in 1996, one of the last years of single-class basketball.
In the 25-plus years since, I've loved basketball in March more and more. With the Purdue and IU men's teams both finally poised for tournament runs, and the IU women's team dominating opponents on its way to a No. 1 seed, it makes me wonder if more meaningful "work" will have been done the morning after the Super Bowl here in Indiana than will be during those two days.
Even for the casual fan, March Madness delivers. Bracket challenges are everywhere, and they require no knowledge of basketball to enjoy them. Trivia question: In 2018, in how many offices across the state did "Cheryl from accounting" win bragging rights after picking No. 16 seed University of Maryland, Baltimore County, to upset No. 1 seed University of Virginia? Answer: Way too many, but we should not be surprised, since the UMBC Retriever is way cuter than the UVA Cavalier. Obviously.
The "March Madness Holiday" is, I admit, still an aspirational dream. I do not own my business; it owns me. Therefore, I might still have to be "on call" those days in the event of a client crisis.
However, I hope my current and future clients appreciate my transparency and understand that the only crisis I am truly hoping to address those days involves my tournament bracket going up in flames. It happens every year, though I am not sure why I stress about that. My sister, who "strategically" picks games based on the colors of team uniforms, is probably going to win our family bracket again, anyway.•
__________
Rateike is founder and owner of BAR Communications and served as director of cabinet communications for President Donald Trump. Send comments to ibjedit@ibj.com.

Click here for more Forefront columns.
Please enable JavaScript to view this content.