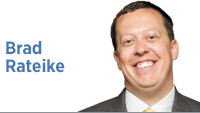 I am a proud season-ticket holder for the Indy Fuel, Indianapolis' professional minor league hockey team. For those of you who are not familiar with the Fuel, they play at the Indiana Farmers Coliseum at the state fairgrounds. No sport is better "in person" than hockey. I highly recommend you try it, but you should know going in that it is highly addictive.
On my way home from their home opener, I reflected about the origins of my own hockey fandom, which started as an adult given that I have never been on ice skates and likely never will be. (Big tree, fall hard.) My thoughts were interrupted abruptly when a particularly disruptive political ad came over the radio, causing a merging of two thoughts in my head: hockey and politics.
Like not trying out skates, I have never run for office. Playing a sport where you move quickly around a surface designed to be as slick as possible while large men try to knock you down and/or into other hard objects requires a certain "fire in the belly" that I do not possess. So does running for office. That said, it does not mean that people who lack that fire do not try—you just do not often see them succeed.
In hockey, the most talented players are often paired together on the first line or rotation, meaning they spend more time on the ice than the second, third or fourth lines, respectively. The first line of a minor league team is often made up of highly touted prospects and veterans who might not have bolted out of the gate but have made incremental progress for long enough to have earned their opportunity.
In Indiana politics, we could look at a roster of current and former elected officials and see a similar makeup throughout history. Of course, in minor league hockey, you must accept that there are many people who will likely never make it beyond the minors. In politics, same.
Fighting is the obvious parallel between the two. Spectators and media love to watch fights because controversy sells and fights often serve a secondary purpose, whether that be stirring up the fans or motivating their teammates.
Sometimes the participants fight dirty. Even though everybody is watching, and even though the parties know the generally accepted rules of engagement, they lack the self-awareness or self-control to rein in their behavior even though it puts their team at a disadvantage. Ironically, both worlds include some people who possess no other skill than fighting, which might have a purpose, but rarely wins recognition as the "most valuable player/politician."
The concept of the penalty box works, too. In hockey, you break the rules, you serve your time, then you make a comeback. Only in extreme circumstances are you kicked out of the game. In the other combat sport, especially in 2022, no one ever seems to be "dead," politically speaking. Even people with a history of poor behavior and poor decision making get to reincarnate themselves if they serve their time.
There are obvious situations where the two could not be more dissimilar, starting with the counting of teeth, but I think comparing the two is fair. Neither activity is for the faint of heart and neither activity is easy to understand. They take guts, they take finesse, they require intuition and courage.
Most important, they both should be enjoyed with popcorn and beer because they are highly entertaining and highly addictive. Go vote! Go see the Fuel!•
__________
Rateike is founder and owner of BAR Communications and served as director of cabinet communications for President Donald Trump. Send comments to ibjedit@ibj.com.

Click here for more Forefront columns.
Please enable JavaScript to view this content.