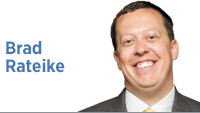 In a previous column, I mentioned the glee I had for what I hoped might be a lull in political activity this year. With no scheduled primary or general elections anywhere in Indiana in 2021, I had hoped we might feel a reprieve from repeated fundraising requests, solicitations to serve as a volunteer, endorsement requests, etc.
I fully realize that national, state and local political leaders of all parties need to always evaluate and recruit talented individuals to run for office, but let us hope those of us who are not professional political operatives can avoid being subjected to one continuous election cycle.
The term "silly season" was coined to describe media coverage of a subject matter when there is nothing concrete or newsworthy to cover. Rather than report on "news" that does not exist, it is much more interesting for reporters to speculate on the "what ifs" or to play a guessing game about what might happen.
In politics, the hypotheticals are often in the form of "musical chairs," where reporters or those stricken with an interest in politics peer into their proverbial crystal ball and try to slot people into offices in future election cycles. I am careful of being too critical of this behavior because media outlets are businesses, and if the demand were not there for these types of stories, the editors would not ask their reporters to write them.
The National Football League makes this process much simpler, though its season (or cycle) is much shorter. Each week, every team publishes a depth chart. By providing a list of the top candidates for every position followed by a name or names of the next qualified person (or backup), fans have a level of certainty about who will play, depending on the situation.
While this is straightforward, the conditions are different in politics. Potential candidates must think multiple cycles ahead in hopes of plotting a course up the depth chart where their timing might align with an "opportunity" befitting their ambition.
In that context, I received a text message from a political reporter a few days ago containing the names of seven potential GOP gubernatorial candidates for 2024. He asked me to rank them from most likely to win the primary to least likely.
Sigh. I reminded him that this primary is 35 months away, even though I knew he knew that. However, I played along and sent him my thoughts, editorial commentary included, for context, given that all of that can change in THREE YEARS!
I considered adding seven more names to his list of people who I know have flirted with the idea of running or I believe will likely posture as if they are going to run. I also refrained from sharing my thoughts on strategies candidates might pursue that are currently not being outwardly pursued—good, bad or indifferent. Like I said above, much can change in three years.
I am a fan of horse racing. Sometimes, our horse bolts out of the gate only to fade around the final turn; sometimes, our horse sits at the back of the pack until a final kick blows away the field. Though I might have my opinion on who the morning-line favorite will be in the 2024 GOP primary, the horses have not yet been loaded into the gate.
That said, even though I was hoping for a year off from politics in 2021, the games have begun. So, start polishing your saddle.•
__________
Rateike is founder and owner of BAR Communications and served as director of cabinet communications for President Donald Trump. Send comments to ibjedit@ibj.com.

Click here for more Forefront columns.
Please enable JavaScript to view this content.