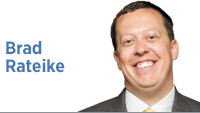 Congratulations, Indiana! Our state is back in an election year. Many Hoosiers do not care, but if you are reading this section of the IBJ, you are at least minimally interested.
For many of my former and some of my current professional colleagues, being in an election year is significant, largely because they directly or indirectly derive their livelihood from politics. I must remember sometimes that "it's the economics, stupid."
For my friends who work solely on political campaigns for a living, their "winter" is over, their hibernation complete. Most of them diversify their income enough to prosper in the off year, but a few of the more "nomadic" types I have known have roamed from campaign to campaign for three years and followed that up with a year of Ramen noodles and Busch Light during their "year of decompression."
Fortunately, those individuals have grown up and/or figured out a different plan for professional sustenance, valiant as their arrested development may have been.
Now that the window to file paperwork to run for office in the May primary is open, it is full-employment season for political operatives, because candidates are going to need campaign managers, general consultants, media buyers, political directors, schedulers, speechwriters, spokespeople, grassroots coordinators, fundraisers, opposition researchers or all of the above.
Someone has to pay the bills. For anyone who has ever donated to a candidate (and therefore gotten themselves placed on a fundraising list), I am sorry to tell you that there is nowhere to hide in 2022. You once identified yourself as a donor, and campaigns are going to find you. The good campaigns likely never stopped asking you for money, preferring the "slow bleed" strategy over the lump-sum direct assault. Mark my words, they will all make up the difference this year.
For media CFOs, elections signal a gravy train of advertising dollars. And those ad dollars bring clogged airwaves and pop-up ads for months. However, I have good news for any of you who wish to consume any type of media beyond mid-March. I believe the quantity and saturation level of political ads this year is going to be lower than in any election year in Indiana since 2014. You heard it here first.
Nothing in 2022 will top the extreme level of presidential and gubernatorial campaign ads in 2020. That record might be unbreakable. Of course, I said the same thing about 2016 when there were open races for president, governor and U.S. Senate in Indiana. Likely finishing in third place is 2018, where we had a three-way contested GOP primary to decide who would challenge a sitting Democratic senator, bringing in a flood of outside special-interest dollars. Lots of dollars, lots of ads.
Based on that high-level assessment, I speculate that, this year, instead of back-to-back-to-back political ads during each TV commercial break, you will have those ads broken up at least once an hour by an automotive commercial. You will liken the faces of Terry Lee, Andy Mohr and Greg Hubler to an oasis in the desert. Do you feel better now?
My Nostradamus-like prediction is made in part because of the tremendous character, service and strategic acumen of U.S. Sen. Todd Young. He's a great American and represents Indiana with distinction. It will be nearly impossible to beat him in his race for reelection this fall and even harder to raise money to run against him.
It comes down to economics. No money means no ads (or fewer ads), which means I might be able to watch TV this fall with the sound on and not worry that I may throw my remote through it. Again, economics.•
__________
Rateike is founder and owner of BAR Communications and served as director of cabinet communications for President Donald Trump. 

Click here for more Forefront columns.
Please enable JavaScript to view this content.