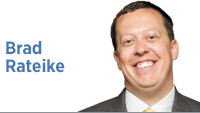 The process of selling a home is far more interesting than I would have anticipated.
After 7-1/2 years in our first home as a married couple, we are selling our condo and moving 3.2 miles away to a house. I have never been on the "selling" side of a residential real estate transaction, so I am learning lessons every day about what to do or not through this process.
Many things are straightforward, but as I have seen the steps as a prospective buyer and seller, I have wondered, and even suggested (to my wife's chagrin), if a little creativity might provide a new perspective, potentially even setting up a greater "love connection" between potential buyers and sellers.
I am not the first to point out the irony that the first thing many of us do when we determine that we want to move to a new home is spend a significant amount of time and/or resources improving our current home. Many of us were raised with the notion, as cliché as it might be, that you should always "put your best foot forward," so I understand the concept, just not always the timing.
Fortunately for me (since no one is likely ever to describe me as "handy"), our condo requires no significant fixes, but many of us know someone who has redone a kitchen or added "upgrades" in anticipation of putting that home on the open market without necessarily any guaranteed return on the investment.
Where I think a new approach could be refreshing to the process is in the presentation of a home for prospective buyers. The default approach seems to be to make the home appear barely used by the seller when the seller likely spent more time there than anywhere else. Yes, people generally like things to look nice and neat, but many of us settle for a "lived in" motif if we are honest about the state of our homes when there are no guests around.
The biggest responsibility we have in preparation for selling is "de-cluttering" the place. Basically, our goal is to somewhat convince a potential buyer that we are obsessive compulsive minimalists. We want to look like we never leave a piece of paper out on a desk, or we wash and put away every dish following every meal. With rare exception, this is not true of most people—at least not most people I know.
I think leaving today's mail out on the counter, or a pan soaking in the sink next to some Tupperware that is still air drying, will prompt prospective buyers to think about the "functionality" of the place. I am not advocating that people start showing dirty homes, but I think a problem-solving instinct kicks in when we see imperfection. Potential buyers then get a greater opportunity to appreciate whether the home could work for them.
For example, seeing the pile of mail on the counter might prompt them to think about where the trash can or recycle bin goes. Or the buyer might consider whether there is adequate shelving space in the closet for the days when hanging up a gently worn item of clothing is just not in the cards and they need somewhere else to throw it.
I doubt my real estate agent is going to agree with this tactic when we list our condo next week, but I hope some prospective buyer can appreciate a highly functional home just as much as a blank canvas.•
__________
Rateike is founder and owner of BAR Communications and served as director of cabinet communications for President Donald Trump. Send comments to ibjedit@ibj.com.

Click here for more Forefront columns.
Please enable JavaScript to view this content.